Apollo Hospital gives lease of life to heart failure patient with new procedure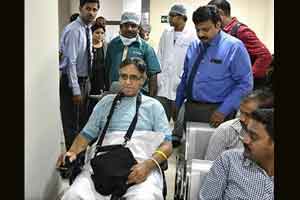 Doctors at Apollo Hospitals, Hyderguda, here performed a new procedure to revive a 70-year-old Heart failure patient and facilitated that he is leading a normal and active life.
The team of doctors including HOD Cardiology Dr V Surya Prakasa Rao, Chief Cardiac Surgeon Dr K Venkat Reddy performed a procedure using the most advanced "Left Ventricular Assist Device" (LVAD HEARTMATE 3) on December 3.
Explaining the high-risk case to the newsmen, Dr Rao and Dr Reddy said that the patient Hasan having undergone bypass surgery (Coronary Artery Bypass Graft Surgery(CABG) for triple vessel block way in 1995 in Germany. He had also been implanted with stents for the blocked surgical grafts 80 times in Germany. As recently as in 2015, he had stent implanted in the left main coronary artery at Apollo Hospitals for an episode of the fresh heart attack. He is also suffering from diabetes and chronic kidney disease. Being a redo case the risk of operative mortality and morbidity was pretty high, the doctors said.
The patient, however, was desiring a treatment which could give a better quality life and enable him to pursue his business and personal works. The team explored the option of cardiac transplantation, but the patient's condition, associated medical co-morbidities and advanced age made him unfit for that too. As the team had exhausted all options, they decided to opt for a relatively new procedure, the doctors said.
Dr Reddy said "This is the most advanced Left ventricular assist device available and functions on the magnetic field, effecting higher revolutions or rotations. Blood clotting is almost negligible, thereby reducing the chances of stroke. Since the device was lesser size, a relatively minimally invasive procedure was performed to implant it. This device did not need creation of pocket in the peritoneal cavity, unlike previous ones. The best part is that the unit has memory to adapt to the patient's parameters quickly. After a major and complicated surgery considering the patient's condition and advanced age, lasting over 12 hours, he was implanted with this life-saving machine. He has since recovered, but he will have to be on blood thinning medicines lifelong and needs regular medical checkups", Dr Reddy said and added that there were two cases of LVAD done in the two telugu states prior to this.
Replying to a question, Dr Reddy said that the device was not available in India and it was imported from US. It cost about Rs 70 lakh and the lifespan would be 7-8 years. The success rate also above 90 percent, he said.
Patient Hasan who was presented before the media expressed his gratitude towards hospital and praised the Apollo doctors who gave him a lease of life.
Source : UNI