Rare Case: Apollo Hospital Doctors revive heart not beating for an hour
Cardiologist performed angioplasty simultaneously with the CPR, to revive the heart of a 22 year old
It is nothing short of miracle, the doctors at Apollo Hospital Delhi saved the life of a 22-year-old man, who had suffered massive cardiac arrest and whose heart reportedly did not beat for nearly an hour.
The patient Asif Khan, an engineer from Aligarh came to the emergency of the hospital young with complaints of severe chest pain. He suffered a cardiac arrest when reaching the hospital.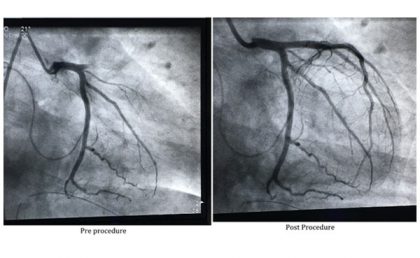 The moment he collapsed, trauma specialists provided him with continuous cardio-pulmonary resuscitation (CPR) which kept the supply of blood running using defibrillator to repeatedly give shocks to his heart. TOI reports that after one hour of constant CPR, the doctors were able to revive his heart back. However, within minutes, the patient again went into cardiac arrest. The doctors put the patient on ventilator and immediately shifted him to cath lab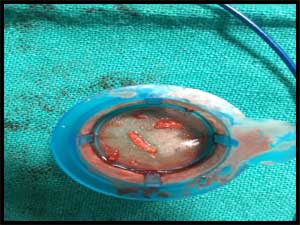 Clots which were removed from the main vessel of the Heart
In critical condition, while Sr. Consultant, Interventional Cardiology & Vascular Interventions Dr NN Khanna was performing an angiogram to locate the blood vessel clot that had caused the condition, the patient suffered another cardiac arrest. Acting swiftly the doctor immediately performed a rare angioplasty to remove the clot and place a stent in the vessel while the patient was being administered CPR
It isn't easy to conduct angioplasty when CPR is on because the heart is constantly moving due to pressure on the chest. But we took the chance because he was a young boy and we didn't want to lose him at any cost," Dr NN Khanna also the Chairman - Asia Pacific Vascular Society told TOI
While the patient's heart was revived, the patient remained unconscious for the next two days, leading doctors to fear that he was brain dead. However, efforts were on and his brain was cooled to 35 degrees Celsius to decrease the oxygen requirement to the organ and reduce the risk of ischemic injury to it. For two days, doctors kept administering medications for improved blood supply but there was no recovery in his brain function.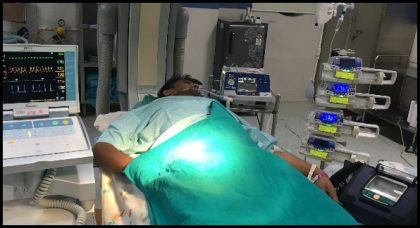 Patient in the Coronary Care Unit (CCU) with ongoing Brain core cooling for decreasing the oxygen requirement of the brain.
"We thought he was brain dead. Tests were being planned to confirm the condition when he opened his eyes. Since then, he hasn't looked back and recovered miraculously," Dr Khanna said.
Over the next ten days, the patient slowly recuperated, finally to be discharged on 16th February 2018
This is a typical case Highlighting:


Prevalence of Coronary Artery Disease in very young fully productive Indians where first manifestation is acute heart attack and cardiac arrest. This sort of disease is very common in Indian and is likely to take epidemic proportion if preventive measures are not taken.


Importance of immediate treatment and the persistence of medical professionals to save his life and bring back the smile on the face of patient and doctors.


Truly gratifying experience and proud moment for the dedicated team of Emergency Medicine, Critical Care and Cardiologists at Indraprastha Apollo Hospital who came forward to save the patient without charging for the procedure. This is How the medical profession Is . That is why it is NOBLE


Source : with inputs