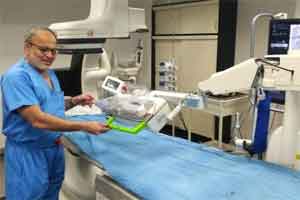 A milestone in the history of interventional cardiology field in India has been achieved by world-renowned Interventional Cardiologist Dr. Tejas Patel, Chairman and Chief Interventional Cardiologist at Apex Heart Institute, Ahmedabad. He announced the first commercial installation of Vascular Robotics system – CorPath GRX (US FDA approved) at Apex Heart Institute.
This is the first and the only Vascular Robotic system outside the United States.
Dr. Tejas Patel is a global key opinion leader and pioneer of the transradial access technique (angioplasty/stenting through the wrist artery), who has trained over
5,000 cardiologists on this technique over the course of 25 years of his career.
The hospital's first robotic-assisted stenting was performed via right dorsal transradial access by Dr. Tejas Patel. Within three weeks of vascular robotics installation at his center, Dr. Tejas Patel along with his partner Dr. Sanjay Shah has performed more than 50 coronary angioplasty/stenting including complex cases like patients with Acute Myocardial Infarction (AMI) and Chronic Total Occlusion (CTO).
Apex Heart Institute in Ahmedabad, Gujarat, India, is a state-of-art cardiology center and now it would also be the first "Global Center of Excellence" outside USA to train interventional cardiologists from India and all over the world on robotic-assisted percutaneous coronary interventions (PCI).
Dr. Tejas Patel, a man of great vision, is on a mission to upgrade the healthcare facilities in the field of coronary artery disease interventions. He believes that this technology will certainly put India in a leading position in the field of cardiology. He feels that there is a pressing need to have the best-in-class technology to deal with the alarmingly high rise in the number coronary artery disease patients in urban and rural India.
The future of robotics is to offer technology such as tele-stenting (ability to stent patients at remote locations) and in-built artificial intelligence (AI) to help cardiologists make sound clinical judgements. All these advancements will have a profound impact on our country's quality of healthcare delivery.
"After completing the initial cases with CorPath GRX, my colleague Dr. Sanjay Shah and I are very impressed by the capabilities of the system to address regular and complex stenting procedures and the level of precision we are able to deliver. Robotics is an important component of the future of interventional cardiology. At Apex Heart Institute, we look forward to pioneering this technology in India and propagate it around the world," said Dr. Patel.
Riyaz Desai, Managing Director of MicroPort India, stated "At MicroPort our endeavour always is to introduce world's latest technologies in India to help Indian patients get the world class care at an affordable price. We are very proud to introduce world's only Vascular Robotic system in India in partnership with Corindus Vascular Robotics, USA. This installation of Vascular Robotic system at Apex Heart Institute, Ahmedabad makes India the first and the only country outside Unites States to have this latest breakthrough in interventional cardiology."
"Vascular Robotics not only offers precision and safety to patients but also offers substantial reduction in radiation exposure during the procedure to the patient, cardiologists and cath Lab staff. We are completely aligned with Prime Minister Narendra Modi's vision of providing high quality healthcare at an affordable price. The introduction of GRX robotic system is a vital step towards achieving this vision. We are very fortunate to partner with Dr. Tejas Patel of Apex Heart Institute who has a reputation of being a great teacher, a researcher, an innovator and an academician. Dr. Patel believes in disseminating knowledge to his colleagues for the greater good of humanity."
Mark Toland, President and Chief Executive Officer, Corindus, USA added "We are pleased that Apex Heart Institute has launched the first robotic program in India, successfully performing several PCI procedures during its first three days of use. India represents a new and developing market for Corindus, and we are looking forward to working with Dr. Patel and the Apex Heart Institute as we introduce our precision vascular robotics to this area."