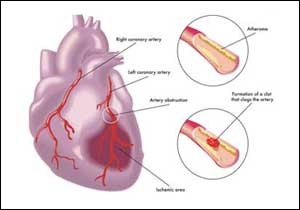 In patients with chest pain without myocardial infarction, even slightly elevated cardiac troponin T levels are associated with increased long-term mortality risk, suggests a study in the Journal of the American College of Cardiology.
Andreas Roos et al. carried out the study on whether any detectable high-sensitivity cardiac troponin T (hs-cTnT) level is associated with adverse outcomes.High-sensitivity cardiac troponin (hs-cTn) assays have been established as key cardiac biomarkers for the diagnosis of myocardial infarction (MI). The improved early diagnostic features have led to earlier rule-out and rule-in of MI in the emergency department (ED).
Researchers studied nearly 20,000 patients who presented to a Swedish ED with chest pain and underwent high-sensitivity cardiac troponin T testing. Patients with acute MI or other conditions related to acute troponin elevations were excluded. The 99th percentile cutoff point for the study's troponin assay was 14 ng/L.
During roughly 3 years' follow-up, 7% of the patients died. The annual all-cause mortality rate was lowest (0.5%) among those with troponin levels below 5 ng/L and then increased with increasing troponin level — reaching 33% at troponin levels of 50 ng/L or higher. After multivariable adjustment, mortality risk was doubled at troponin levels of 5–9 ng/L (versus <5 ng/L) — and was tenfold higher at troponin levels of 50 ng/L or higher.
Elevated high-sensitivity troponin T levels in stable patients also warn of a greater risk for 3-year mortality. While not indicative of acute coronary syndrome, these troponin results should merit further attention of patients and their physicians to work together to lessen risk factors for both cardiac and noncardiac death.
For more details click on the link :
http://www.onlinejacc.org/content/70/18/2226