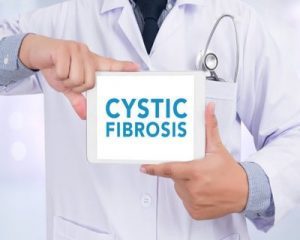 Taking a specially formulated antioxidant-enriched multivitamin may decrease respiratory illnesses in people with cystic fibrosis(CF), says study published in American Journal of Respiratory and Critical Care Medicine. Antioxidant treatment was found to prolong the time to the first respiratory illness requiring antibiotics and reduce the frequency of respiratory illnesses the patients with CF experience.
Cystic fibrosis (CF) is a genetic disorder that affects mostly the lungs, but also the pancreas, liver, kidneys, and intestine. Long-term issues include difficulty breathing and coughing up mucus as a result of frequent lung infections.
Scott D Sagel and his associates conducted a study to evaluate the effects of an oral antioxidant-enriched multivitamin supplement on antioxidant concentrations, markers of inflammation and oxidative stress, and clinical outcomes.
The study was a multicenter, randomized, double-blind, controlled trial which included 73 pancreatic insufficient CF, of 10 years of age and older who were randomized to 16 weeks of an antioxidant-enriched multivitamin or control multivitamin without antioxidant enrichment. These patients ordinarily do not adequately absorb important dietary antioxidants including carotenoids such as beta(β)-carotene, tocopherols (vitamin E), coenzyme Q10 (CoQ10), and selenium that help to neutralize inflammation in the body. To address this issue, the antioxidants used in the study were delivered in a capsule specifically designed for individuals with difficulties absorbing fats and proteins, including those with CF.
Endpoints included systemic antioxidant concentrations, markers of inflammation and oxidative stress, clinical outcomes (pulmonary exacerbations, anthropometric measures, pulmonary function), safety and tolerability.
The study found that systemic antioxidant concentrations (β-carotene, CoQ10, γ-tocopherol, lutein) significantly increased in the antioxidant-treated group while circulating calprotectin and myeloperoxidase decreased in the treated group compared to the control group at week 4 only. The treated group had a lower risk of first pulmonary exacerbation requiring antibiotics than the control group.
"Single oral antioxidant formulations have been previously tested in CF with mixed results. However, there had not been a well-designed, randomized controlled trial of an antioxidant 'cocktail' that included multiple antioxidants in a single formulation," said Scott D. Sagel. He added that more research certainly needs to be done to find a treatment that delivers a sustained anti-inflammatory effect, but he believed that the antioxidant supplement prolonged the time patients had before their first illness is meaningful. It offers a simple, relatively inexpensive means for restoring and maintaining normal antioxidant levels in people who would otherwise have trouble doing so.
The study concluded that antioxidant treatment was associated with a lower risk of first pulmonary exacerbation and antioxidant supplementation was safe and well tolerated, resulting in increased systemic antioxidant concentrations which reduced systemic inflammation after 4 weeks.
For more reference log on to: https://doi.org/10.1164/rccm.201801-0105OC