................................ Advertisement ................................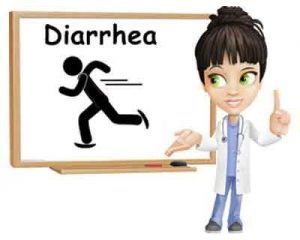 Antibiotic-associated diarrhea refers to passing loose, watery stools three or more times a day after taking medications used to treat bacterial infections (antibiotics). Most often, antibiotic-associated diarrhea is mild and requires no treatment.
Indian Council of Medical Research, Department of Health Research has issued the ICMR treatment Guidelines for Antimicrobial Guidelines for the Management of Antibiotic Associated Diarrhea. Following are the major recommendations:
Preamble and Case definition
AAD is a broad term that encompasses all diarrheal episodes, inflammatory and non inflammatory, related to the use of antibiotics. Of these, Clostridium difficile associated diarrhea (CDAD), or Clostridium difficile infection (CDI) /Clostridium associated colitis, is the one of the most clinical and public health importance and has become the commonest nosocomial infection in the west. There have been increasing reports of CDAD from India (1,2). Studies on CDAD from India reveals a prevalence range from 7.1 – 26.6%.
................................ Advertisement ................................
The different presentations of CDI are summarized below.
Asymptomatic: About 20% of hospitalised patient may be asymptomatic carrier, and have stool positive for C. difficile toxin. They act as reservoir for environmental contamination but do not have diarrhea.
C. difficile associated diarrhea with colitis. This is characterised by multiple watery diarrhea > 10 times per day associated with abdominal pain, tenderness and systemic symptoms like, anorexia, nausea, fever and features of dehydration.
Fulminant Colitis
Recurrent disease – Recurrence of symptoms after successful initial therapy for C. difficile, due to relapse of the initial infecting strain or due to reinfection with a new strain, develops in 10 to 25 percent of cases
CDAD must be differentiated from
................................ Advertisement ................................
Other causes of antibiotic associated diarrhea
Unrelated causes of inflammatory diarrhea like Inflammatory bowel disease
Other infective etiology like Salmonella, Shigella, Entamoeba histolytica
Non inflammatory or osmotic diarrhea
Common Pathogens
Clostridium difficile
Cases of hypervirulent strain with severe disease reported less than the west
An asymptomatic carrier state was noted to be 6% in a hospital survey (3)
Incidence of mild to moderate CDAD was 10%.
Most of the cases were responsive to metronidazole.
The hypervirulent strain NAP1/BI/027 has been responsible for dramatic increases in the frequency, severity, and refractoriness of C. difficile in multiple outbreaks around the world
Clinical Manifestation
C. difficile infection should be suspected in any patient who has one or more risk factors for developing this infection and has abdominal symptoms, predominantly diarrhea. The risk factors for developing CDI include:
Antibiotics, especially
Fluroquinolones
Clindamycin
Penicillins (Broad spectrum)
Cephalosporins (Broad spectrum)
Advanced age
Severity of illness
Gastric acid suppression (mainly with proton pump inhibitors)
Enteral feeding
Prolonged hospitalization
Gastrointestinal surgery
Obesity
Cancer chemotherapyHematopoietic stem cell transplant
Antibiotic use is the most common cause for this infection and some antibiotics (listed above) are commonly associated with C. difficile colitis. Antibiotics least associated with CDAD include Macrolides, Sulphonamides, Trimethoprim, Aminoglycosides, Tetracycline, Tigecycline, Chloramphenicol, Metronidazole and Vancomycin. It is important to note that C. difficile infection may occur even in the absence of any risk factor .
Investigations
The mainstay of laboratory diagnosis of C. difficile infection (CDI) is toxin assay of a fresh sample of liquid or semiformed stool (to be performed within two hours at room temperature) or preserved at 4 degree Celsius in the refrigerator if the assay is delayed for any reason.
1. Enzyme immunoassay (EIA) for C. difficile toxins A and B
Most commonly performed assay in clinical practice.
The sensitivity of EIA for toxins A and B is about 75%; the specificity is high (up to 99%).
If the initial EIA test is negative, the value of repeating the test is limited and repeat testing is generally discouraged
2. Enzyme immunoassay (EIA) for C. difficile glutamate dehydrogenase (GDH)
Useful as an initial screening step
Highly sensitive, and results are available in less than one hour.
Cannot distinguish between toxigenic and nontoxigenic strains
Positive results need to be confirmed by more specific tests like toxin assays and /or PCR
3. Real-time PCR tests that detect toxin A and B genes Highly sensitive and specific for diagnosis of C. difficile related diarrhea for the 1st episode but cannot be used as a test of cure and may be less useful if a relapse or re-infection suspected.
4. Cell culture cytotoxicity assay
The 'gold standard' test for diagnosis of C. difficile
Labor intensive and takes approximately two days
Not performed routinely.
5. An algorithmic approach should be utilized for judiciously using these investigations.
6. If PCR assay is available
Most sensitive and specific test and is recommended.
If it is positive no further test is required
If negative and clinical suspicion is high, EIA for toxin or cell culture should be performed
7. If PCR is not available
EIA for GDH should be performed first
If positive, it should be confirmed with EIA toxin assay
                  o positive result may be presumed in the setting of positive EIA for GDH and toxin
                  o negative result if both EIAs are negative.
8. If EIA GDH and PCR both are not available as might be the case in many centres in India, a fresh sample of liquid stool tested within two hours should be performed for EIA toxin.
If it is negative and clinical suspicion is high repeat toxin assay should be performed
Repeat testing and test for cure are not warranted in patients with for diagnosis of C. difficile related diarrhea the 1st episode but cannot be used as a test of cure and may be less useful if a relapse or re-infection suspected.
9. Repeat testing and test for cure are not warranted in patients with positive PCR or toxin assay test who are a symptomatic. There is no clinical role for laboratory tests among asymptomatic patients or among patients on treatment for acute disease, as stool assays may remain positive during or after clinical recovery
10. Colonoscopy or sigmoidoscopy and biopsy (in the setting of diagnostic uncertainty) with visualization of pseudomembrane and ulceration, can be a useful adjunctive tool for diagnosis of C. difficile in the following settings:
Failure of C. difficile infection to respond to antibiotic therapy
Atypical presentation with ileus or minimal diarrhea
Prompt C. difficile diagnosis needed before laboratory results can be obtained
High clinical suspicion for C. difficile with negative laboratory assay(s)
Resistance Patterns
The hypervirulent strain NAP1/BI/027 is not commonly reported in India  Most strains respond to metronidazole
Table 1. Treatment Regimen for C. difficile Colitis
Clinical condition
Initial AMA
Alternate AMA
Comments
Mild disease

Metronidazole 400 mg orally three

times daily for 10 to 14 days

Vancomycin 125 mg orally four

times daily

Stop any ongoing antibiotic, if possible. Substitute with low-risk antibiotic if possible. Correction of fluid and electrolyte imbalance in all patients
Severe disease:

Vancomycin 125 mg orally four

times daily for 10 to 14 days,

can be increased to 500 mg 4 times daily

If not able to tolerate oral vancomycin, vancomycin retention enema (500 mg in 100 ml normal saline given six hourly ) with intravenous metronidazole 500 mg 8 hourly.
Monitor organ function closely;

Consider surgery for severe persistent symptoms, toxic megacolon, severe ileus, or peritonitis.

Relapsing Disease

Tapering and pulsed oral vancomycin 125 mg orally four times daily for 7 to 14 days If multiple relapses : Vancomycin125 mg orally twice daily for 10-14 days, then 125 mg orally q12h, 125 mg orally once daily for 7 days, then125 mg orally every other day for 4 doses, then125 mg orally every 3 days for 5 doses Fecal Microbiota Transplantation (FMT):
Fidaxomicin 200 mg orally twice daily for 10 days (not available in India)

OR

Rifaximin 200 mg three times daily

OR

Fecal bacteriotherapy (fecal microbiota transplant)

Probiotics (e.g.,Saccharomyces boulardii 500 mg

orally twice daily).

The probiotics may be overlapped

with the final week of the taper and continued

for two additional weeks in the absence of antibiotics.
You can read the full Guideline by clicking on the link :
Dr Soumya Swaminathan, Director General, Indian Council of Medical Research Secretary, Department of Health Research
Supriya Kashyap Joined Medical Dialogue as Reporter in 2015 . she covers all the medical specialty news in different medical categories. She also covers the Medical guidelines, Medical Journals, rare medical surgeries as well as all the updates in medical filed. She is a graduate from Delhi University. She can be contacted at supriya.kashyap@medicaldialogues.in Contact no. 011-43720751
................................ Advertisement ................................