................................ Advertisement ................................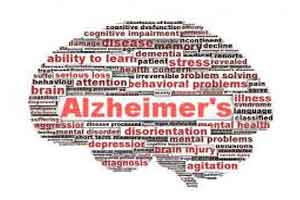 According to a new study Antiepileptic drugs are linked to a higher risk of stroke in Alzheimer's disease. The risk of stroke was particularly increased in the first three months of antiepileptic drug use and remained elevated after accounting for several chronic disorders, socioeconomic position and use of concomitant medications.
Researchers of the University of Eastern Finland have found that Antiepileptic drug use is associated with an increased risk of stroke among persons with Alzheimer's disease. The risk was the same with both old and new antiepileptic drugs. The study has been published in the Journal of the American Heart Association.
According to another recent study from the same research group, persons with Alzheimer's disease use antiepileptic drugs more often than persons without Alzheimer's disease. The difference was not explained by epilepsy, and there was a considerable increase in antiepileptic drug use around the time when Alzheimer's disease was diagnosed.
................................ Advertisement ................................
Up to 1% of the population needs chronic antiepileptic treatment to control epilepsy. Other indications for antiepileptic drug use include neuropathic pain and dementia-related behavioral symptoms in persons with Alzheimer's disease.
The present findings indicate that as persons with Alzheimer's disease are particularly susceptible to adverse events, the use of antiepileptic drugs for other indications than epilepsy or neuropathic pain should be carefully considered in this vulnerable population.
................................ Advertisement ................................
The studies were based on the nationwide register-based MEDALZ cohort that includes all community-dwelling persons with the clinically verified diagnosis of Alzheimer's disease in Finland during 2005-2011 (70,718 people). Data on antiepileptic drug use was extracted from the Finnish Prescription Register. To assess the risk of stroke associated with antiepileptic drug use, each antiepileptic drug user was matched to a non-user. The study was conducted at the University of Eastern Finland and funded by the Academy of Finland.
For more details click on the link: http://dx.doi.org/10.1161/JAHA.118.009742 
Hina Zahid Joined Medical Dialogue in 2017 with a passion to work as a Reporter. She coordinates with various national and international journals and association and covers all the stories related to Medical guidelines, Medical Journals, rare medical surgeries as well as all the updates in the medical field. Email: hina@medicaldialogues.in. Contact no. 011-43720751
To know about our editorial team click here