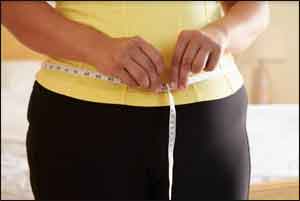 Initiation of antidepressant drugs shows a strong temporal association with weight gain, according to a recently published article in BMJ. The gain of weight is greatest during the second and third years of treatment. During the second year of treatment, the risk of ≥5% weight gain is 46.3% higher than in a general population comparison group.
Obesity is an increasing concern worldwide. Between 1975 and 2014 the global prevalence of obesity increased from 3.2% to 10.8% for men and from 6.4% to 14.9% for women.
Rafael Gafoor and his associates conducted a study to evaluate the long-term association between antidepressant prescribing and body weight.
In a population-based cohort study, 1,36,762 men and 1,57,957 women with three or more records for body mass index (BMI) were included. In the year of study entry, 17, 803 (13.0%) men and 35,307 (22.4%) women with a mean age of 51.5 years were prescribed antidepressants. During 1,836,452 person-years of follow-up, the incidence of  ≥5 weight gain in participants not prescribed antidepressants was 8.1 per 100 person-years and in participants prescribed antidepressants was 11.2 per 100 person-years.
The review also drew attention to the heterogeneity among different antidepressant drugs, with bupropion and fluoxetine being associated with lower weight gain than mirtazapine and nortriptyline.
During the entire period of follow-up for 10 years, participants who were prescribed an antidepressant had an increased risk of ≥5% weight gain compared with those who had never been prescribed an antidepressant
Participants of normal weight showed an increased risk of transforming to overweight or obesity, and overweight participants were more likely to become obese if they were treated with an antidepressant. The risk of weight gain was substantially increased during the second and third years of treatment
Less than 12 months' use of antidepressants did not appear to be associated with weight gain. Mirtazapine was associated with the highest incidence rate ratio of weight gain. These associations are consistent across a wide range of clinical, social, and demographic characteristics. The increasingly widespread use of antidepressants is of concern in the context of the increasing prevalence of obesity
The study concluded that widespread utilization of antidepressants may be contributing to the long-term increased risk of weight gain at the population level. The potential for weight gain should be considered when antidepressant treatment is indicated.
For more reference log on to:  doi: https://doi.org/10.1136/bmj.k2151