Anticholinergics linked to elevated risk of Dementia in elderly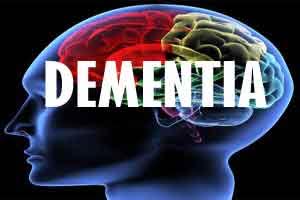 Long-term use of some anticholinergic medications may enhance the risk of dementia - suggests a new study led by the University of East Anglia (UK). People who had been diagnosed with dementia were up to 30 percent more likely to have been prescribed specific classes of anticholinergic medications and the association with dementia increases with greater exposure to these types of medication
The study shows that dementia risk was associated with medications(Tolterodine, and Solifenacin) prescribed for bladder conditions and Procyclidine for Parkinson's
The study involved the medical records of 40,770 patients aged over 65 diagnosed with dementia, and compared them to the records of 283,933 people without dementia. More than 27 million prescriptions were analysed.
Dr George and his team analysed to see whether there were links between different classes of anticholinergic medication and incidence of dementia diagnosis but no direct link could be established but this work does suggests a potential preventative approach to reduce dementia which is a priority.
"We studied patients with a new dementia diagnosis and looked at what anticholinergic medication they were prescribed between four and 20 years prior to being diagnosed.
"What we don't know for sure is whether the medication is the cause. It could be that these medications are being prescribed for very early symptoms indicating the onset of dementia.
"But because our research shows that the link goes back up to 15 or 20 years before someone is eventually diagnosed with dementia, it suggests that reverse causation, or confounding with early dementia symptoms, probably isn't the case.
"This research is really important because there are an estimated 350 million people affected globally by depression, and bladder conditions requiring treatment are estimated to affect over 13 per cent of men and 30 per cent of women in the UK and US.
"Many of the treatment options for these conditions involve medication with anticholinergic effects.
Dr Doug Brown, Chief Policy and Research Officer at Alzheimer's Society, said: "This large study confirms that some anticholinergic drugs can raise the risk of dementia - but it should also put minds at ease as there appears to be no dementia risk with anticholinergic drugs used to treat common conditions like hay fever, travel sickness and stomach cramps.
"Current guidelines for doctors say that anticholinergic drugs should be avoided for frail older people because of their impact on memory and thinking, but doctors should consider these new findings for all over-65s as long-term use could raise the risk of dementia."
Dr Noll Campbell, a collaborator and co-author on the paper, said: "These results suggest we should prioritise safer alternatives to anticholinergic medications long before symptoms of dementia are recognised." Dr Campbell is an investigator with the Regenstrief Institute and Indiana University Center for Aging Research and is an assistant professor with Purdue University College of Pharmacy in the United States.
The study concludes that clinicians should consider long-term anti-cholinergic effects when prescribing. Patients with concerns should continue taking their medicines until they have consulted their doctor or pharmacist.
However several other anticholinergic medications, including anti-histamines and those used for abdominal cramps, were not found to be linked to dementia - despite previous research suggesting that any anticholinergic might represent a risk.
The research was published in the journal BMJ.
For more reference log on to:
BMJ (2018). DOI: 10.1136/bmj.k1315