Anticholinergic toxicity due to accidental ingestion of Brugmansia suaveolens leaves : a report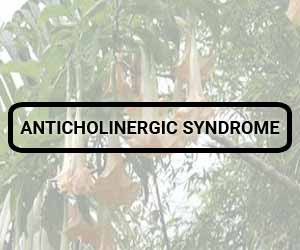 Dr K. P. Jayawickreme at Sri Jayawardenepura General Hospital, Sri Jayawardenepura Kotte, Sri Lanka and colleagues have reported a rare case of Anticholinergic toxicity due to accidental ingestion of Brugmansia suaveolens leaves. The case has appeared in the Journal of Medical Case Reports.
Brugmansia suaveolens is the commonest species under the Solanacea ("Angels Trumpet" in English; "Attana" in Sinhalese) plant family in Sri Lanka. It contains alkaloids like scopolamine, atropine and hyoscyamine which can cause an anticholinergic toxindrome. There have been a few reported cases of accidental ingestion of Brugmansia seeds among children, seeds being the most toxic part, but no such reported cases of Brugmansia leaves poisoning among adults.
A 60-year-old Sinhalese housewife with pre-existing hypertension and diabetes mellitus presented to the emergency treatment unit with acute confusion, delirium, and agitation. She had prepared and drank 350 ml of a herbal drink containing leaves in her garden, which the other family members were not aware of. She routinely prepared herbal drinks from other plants in her garden and was unaware of this plant's toxicity. She was previously well until she developed acute confusion, agitation, and restlessness 30 minutes after the drink. Another family member who also had the same drink in a lesser quantity of 50 ml had developed mild confusion which recovered spontaneously within 6 hours. She had not taken any other medication other than her routine drugs; losartan 25 mg and metformin 850 mg. She had no history of psychiatric illness and had no similar episodes in the past, and denies taking any other drugs other than her routine medications. She did not smoke or consume alcohol.
On examination, she was disoriented in time, place, and person and was restless. She had mydriasis and dry skin. Her blood pressure was 140/90 mmHg, compared to her baseline blood pressure of 120/80 mmHg, and had a tachycardia of 120 beats per minute. She had acute urinary retention, which drained 1000 ml of dilute urine after catheterization. She was afebrile, had no neck stiffness, no papilledema, and no focal neurological signs, and limb tone, power and reflexes were normal. She had no cerebellar signs and no sensory impairment. Her random blood sugar was 150 mg/dl, electrocardiogram (ECG) showed sinus tachycardia, and venous blood gas showed a PH of 7.42, lactate- 1.5 mmol/l, HCO− 3 24 mmol/l. Her computed tomography (CT) Brain was normal. Her serum creatinine was 70 mmol/L, serum sodium was 135 mmol/L, serum potassium was 4.3 mmol/L. Urinalysis had no pus cells or red cells. Her Alanine Aminotransferase was 20 U/L, Aspartate aminotransferase was 32 U/L, and International normalized ratio was 1. Her C reactive protein was < 2 mg/L. Her urine for toxicology was negative for illicit drug substances like amphetamine and cocaine.
Since she presented 6 hours after the presumed poisoning of an unknown toxin, gastric lavage was not done, but multiple-dose activated charcoal was given, assuming the possibility of features of anticholinergic syndrome causing delayed gastric emptying. She was well hydrated with normal saline and 1.5 mg IV midazolam was given to calm the patient. Her delirium gradually weaned off after 15 hours since onset and mydriasis settled after 24 hours, and recovered without any residual effect. After regaining consciousness she admitted that she made the kanji sample containing Centella asiatica leaves ("Gotukola" in sinhalese), Asparagus racemosus ("Hathawariya" in sinhalese), and another unknown plants leaves from her garden. We got down a part of the unknown plant (Fig. 1) and images of the tree (Fig. 2), and with the help of a native medicine physician and specialist in botany, identified the plant as a species of "Attana"; Brugmansia suaveolens. However she did not require the antidote physostigmine and recovered fully. On discharge she and her family members were educated on the toxicity of the plant and were advised to avoid ingestion of any parts of the plant. She was completely normal at follow up at 6 months.
Journal Information:
Journal of Medical Case Reports
For more details click on the link:
https://doi.org/10.1186/s13256-019-2250-1
Source : Journal of Medical Case Reports.