Antibiotic resistance increasing in older patients with UTI, shows observational study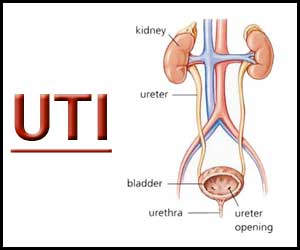 United Kingdom: Antibiotic resistance (AR) is increasing among older inpatients with urinary tract infections (UTIs), show analysis of US hospital data.The study, published in the PLOS One, found that AR in older patients with UTIs nearly doubled from 2009 to 2016.
Antimicrobial resistance is recognized as a global threat to health and healthcare systems. AR could lead to negative impacts on patient outcomes such as increased length of hospital stay, functional decline, increased healthcare expenditure and all-cause mortality. Urinary tract infections are one of the most common infections in older people and are associated with increased morbidity and mortality. UTIs are also associated with increased risk of antimicrobial resistance.
Hoa Q. Nguyen, Queen's University Belfast, Belfast, United Kingdom, and colleagues examined changes in AR among older inpatients with a primary diagnosis of UTIs in the United States over an 8-year period and the impact of AR on clinical outcomes and hospital costs.
The researchers, using data from the e National Inpatient Sample—Healthcare Cost and Utilization Project, looked at episodes of care involving patients over 65 with a primary diagnosis of UTI in this retrospective, observational study.
The primary outcomes were the proportion of admissions with antibiotic resistance (based on ICD-9 and ICD-10 codes), factors associated with higher antibiotic resistance, and the impact of antibiotic resistance on all-cause inpatient mortality, discharge destination, length of stay and hospital expenditures.
Over the 8-year period, a total of 546,305 eligible admissions with a primary diagnosis of UTIs were included in the study.
Key findings of the study include:



The proportion of antibiotic resistance among inpatient episodes those aged 65+ with a primary diagnosis of UTIs increased from 3.64% in 2008 to 6.88% in 2016.




Factors associated with higher likelihood of having an antibiotic-resistant UTI included higher age-adjusted Deyo-Charlson Comorbdity Index (ACCI) score and admissions to hospitals in urban areas.



Admissions with antibiotic-resistant UTIs were more likely to be discharged to healthcare facilities (e.g. care homes) compared to those without antibiotic resistance, had increased length of stay (1.12 days longer), and had higher hospital costs ($1,259 USD).


Resistance due to methicillin-resistant Staphylococcus aureus

was specifically associated with increased hospital mortality.



"Our findings indicate a considerable impact of this issue on clinical and economic outcomes," wrote the study authors. "These relationships and their implications for the care homes to which patients are likely discharged warrant further research."
To read the complete study log on to
Nguyen HQ, Nguyen NTQ, Hughes CM, O'Neill C (2019) Trends and impact of antimicrobial resistance on older inpatients with urinary tract infections (UTIs): A national retrospective observational study. PLoS ONE 14(10): e0223409. https://doi.org/10.1371/journal.pone.0223409