Hydroxychloroquine as good as SGLT-2 inhibitors as add on therapy to lower blood sugar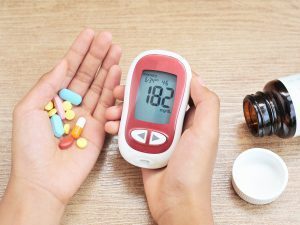 Hydroxychloroquine is as good as SGLT-2 inhibitors (sodium-glucose transport inhibitors)as an add on treatment for lowering blood sugar and HbA1c in diabetes finds a study.SGLT2 proteins or sodium-glucose transport proteins in humans facilitates glucose reabsorption in the kidney. SGLT2 inhibitors block the reabsorption of glucose in the kidney, increase glucose excretion, and lower blood glucose levels.
Recently an Indian study presented at the American Association of Clinical Endocrinologists (AACE) annual meeting demonstrated that Hydroxychloroquine significantly reduced HBA1C levels in adults type 2 diabetes patients with uncontrolled blood sugar who are already on vildagliptin and metformin. The study demonstrated that HBA1C significantly reduced after 24 weeks of hydroxychloroquine intervention. The drug has been approved by the FDA for treatment of malaria, lupus, and rheumatoid arthritis.
Hydroxychloroquine is amongst the oldest antimalarial drug which is still used in clinical practice. Interestingly there has been growing evidence of its beneficial effects in managing cardiovascular disease risk, particularly diabetes and dyslipidemia.
The data showed that reduction in HBA1C levels was equal to that of SGLT-2 inhibitor canagliflozin as adjunctive therapy. Although the effect of hydroxychloroquine is known to control hyperglycemia and other autoimmune disorders through various studies the study intended to test its efficacy in a real-world scenario.
The current study was an observational, open-label study included 87 Indian patients with type 2 diabetes, aged around 56 in which 58% were males. The patients were already under treatment with a maximum dose of 100 mg of the DPP-4 inhibitor vildagliptin and 2,000 mg of metformin daily. None of the patients had a history of CV events or retinal abnormalities. Half of the patients were placed on 400 mg of HCQ once daily, while the other half of the cohort were placed on 300 mg of canagliflozin once daily.
The researchers observed that after 24 weeks of adjunctive treatment with either canagliflozin and hydroxychloroquine the fasting plasma glucose (FPG) and postprandial glucose levels (PPG) significantly dropped in both the interventions. There was no significant difference between the two. However, -sensitivity C-reactive protein levels dropped significantly in the HCQ group but not in the canagliflozin group. Similarly, rates of hypoglycemia (Low sugar level) were also slightly lowered among patients on HCQ versus canagliflozin.
The anti-inflammatory effect of HCQ works well on the residual risk apart from controlling the blood sugar and inflammation is associated with cardiovascular risks in diabetic patients.
The authors concluded that HCQ is an effective and safe alternative of diabetes management and can be used as an ad on drug to failing oral treatment regimens and insulin.