Annual screening of Atrial Fibrillation patients decreases Stroke risk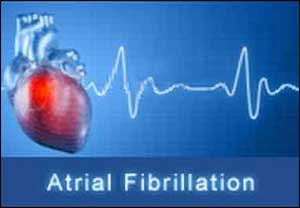 According to a new study, annual screening of AF patients decreases Stroke risk.
The study published in Annals of Internal Medicine has reported that patients with initially low-risk atrial fibrillation (AF) may require a periodic reassessment of stroke risk to determine whether oral anticoagulants are required.
The study revealed that around 16% of women and men moved into the higher risk category requiring treatment by 1 year despite their CHA2DS2-VASc score didn't qualify them for anticoagulation at diagnosis.
Read Also: Catheter ablation superior to drug therapy in atrial fibrillation and heart failure
International guidelines suggest a 0 score is "low" risk and may not require anticoagulation; a 1 score is "low-moderate" risk and should consider antiplatelet or anticoagulation, and score 2 or greater is "moderate-high" risk and should otherwise be an anticoagulation candidate.
Tze-Fan Chao and associates conducted a study to investigate the incidence of an increase in CHA2DS2-VASc score to at least 1 (men) or 2 (women) among patients with newly diagnosed AF and a baseline score of 0 (men) or 1 (women).
Using a Taiwan insurance database, researchers identified nearly 15,000 adults diagnosed with AF between 1997 and 2010 who were deemed low risk — that is, none had comorbidities that would give a CHA2DS2-VASc score above 0 (men) or 1 (women). Accordingly, none were prescribed oral anticoagulants or antiplatelets.
During roughly 3 years' follow-up, over a third of the patients developed comorbidity that would increase their CHA2DS2-VASc score and make them eligible for treatment. In particular, 16% of men and women did so in the first year.
Read Also: Edoxaban more beneficial than Warfarin in patients with atrial fibrillation
The percentage of women who went from below to above the 1-point CHA2DS2-VASc score threshold for prophylaxis was 24.9% at 2 years and 49.9% at 7 years after atrial fibrillation onset.
On the other hand, for men, the overall proportion of an increase in CHA2DS2-VASc score from 0 at baseline to above that threshold for prophylaxis was 24.5% at 2-year follow-up and 49.1% at 7-year follow-up.
The authors suggested that CHA2DS2-VASc scores should be reassessed at least annually in patients with AF so that OACs (oral anticoagulants) can be prescribed in a timely manner for stroke prevention.
For full information log on to
http://annals.org/aim/article-abstract/2720037/reassessment-risk-stroke-during-follow-up-patients-atrial-fibrillation
Source : With inputs from Annals of Internal Medicine