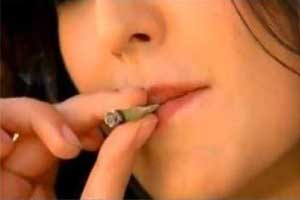 According to a Research paper published in BMJ, Total annual economic cost of Bidi smoking is INR 805.5 billion in India. Costs are estimated under the following heads: (1) direct medical expenditure of treating diseases; (2) indirect morbidity costs and (3) indirect mortality costs of premature deaths.
Bidis produce equal or higher levels of nicotine, tar, and other toxic chemicals compared to conventional cigarettes. Their consumption and market penetration is spreading at a very high pace. Bidi is very popular in India, accounting for most (81%) of the tobacco smoked and 72 million regular users over the age of 15.
According to research published in the journal Tobacco Control, Bidi smoking cost India 805.5 billion rupees in ill health and early deaths in 2017 alone. One can now easily figure out the disastrous effect of smoking bidi.
Bidi smoking is implicated in several types of cancer, tuberculosis, and various long-term lung conditions. But despite its impact on the nation's health, it has been taxed at a rate that is a fraction of that applied to cigarettes, says the researcher.
Read Also: Quitting smoking within five years, lowers heart attack risk by 38%
The total annual economic costs of bidi smoking amount to approximately 0.5% of India's gross domestic product, while the excise tax revenue from bidi is only half a percent of its economic costs. The direct medical costs of bidi smoking amount to 2.24% of total health expenditure.
Direct costs-tests, drugs, doctors' fees, hospital stays, and transport-make up around a fifth of this total (just under 21%; INR 168.7 bn), with the remainder made up of indirect costs-accommodation for relatives/carers and loss of household income (INR 811.2 bn).
As a result, nearly one in five households in India faces "catastrophic expenditures" due to healthcare costs, with more than 63 million people pushed into poverty.
Read Aso: Hookah smoking unsafe, impairs blood vessel function
"Diseases associated with bidi smoking add to this, potentially pushing more people into poverty," the author writes, suggesting that about 15 million face poverty because of spending on tobacco and associated health costs and expenditure on tobacco also crowds out expenditure on food and education in India, especially among the poor"
The author calls for a tax hike to curb the increasing rate of bidi smoking in India and opined that allowing bidi consumption to continue unhindered would make income distribution even more regressive, as the poor will continue to bear a disproportionately large share of economic costs from bidi smoking due to their higher bidi smoking prevalence.
For full information log on to http://dx.doi.org/10.1136/tobaccocontrol-2018-054493