Angioplasty as an alternative to CABG surgery or medical therapy in diabetes. when? and to whom?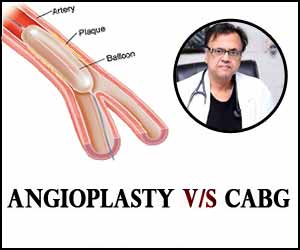 Pooled analysis of the various trials comparing optimum medical therapy (OMT) and revascularization (JAM Coll Cordiol 2016;68:985-95) in various trials clearly indicates that revascularization with CABG plus OMT is significantly better than Optimum Medical Therapy alone or Percutaneous Coronary Intervention (PCI) with OMT.
G.B Manchi et al even showed that OMT was better than PCI plus OMT in death Myocardial infarction (MI) and stroke in the pooled analysis of FREEDOM, BARI 2D and COURAGE TRIAL. It's a matter of fact that the medical therapy is targeting all the lesions including the culprit and non culprit lesion in the coronary tree CABG surgery corrects the target culprit lesion as well as some future non culprit lesion that may create complications in future while angioplasty only targets the culprit lesion and any future progression of the disease always demands revascularization.
While medical treatment is universally available and remains the backbone of the basic treatment, it is not always successful in controlling the progressive disease once it starts giving symptoms. CABG is though long lasting as well as more likely to cause complete revascularization but, it is associated with larger scar and immediate postoperative complications. Angioplasty is though associated with immediate relief and early ambulation but it is linked with no repeat revascularization.
It is a matter of fact that in the COURAGE trial the revascularization was done by bare metal stents only and in BARI 2D trial only 35% people were treated with a drug-eluting stent and that too with the 1st generation stents.
The potential advantage of CABG over PCI using the 1 st generation stent was that of repeat revascularization in most of the trials and reduced risk of a heart attack in the freedom (NOBEL and BEST TRIAL) and reduced risk of death in freedom trial. The potential disadvantages of CABG were: risk of peri-procedural events such as Death, Myocardial Infarction, Stroke, Renal failure, Bleeding, Need for transfusion, Infection, Prolonged intubation, and Prolonged recovery
CAN THIS GAP BETWEEN ANGIOPLASTY AND SURGERY BE MET WITH THE IMPROVEMENT IN ANGIOPLASTY DEVICES AND PROCEDURES??
In the BEST trial (Parks et al NEJM) used of 2 nd generation stents and better Optimal Medical Treatment (OMT) in which the death and MI has largely been reduced as well as the stroke was lesser by angioplasty. The Meta-analysis of 3 randomized controlled trials, BEST, EXCEL and NOBEL trials involving around 4000 patients showed that in PCI with 2nd generation desk the overall MACE was better in PCI than CABG in short term but loses its strength in CABG in the long term.
The real world scenario today is, even in a diabetic patient, angioplasty is a preferred way of revascularization in the majority of patient with STEMI ( ST Elevation Myocardial Infarction) and in a patient with non-STEMI. In many patients with stable angina especially with single vessel disease with ongoing symptoms despite maximum medical treatment angioplasty s preferred. The angioplasty can also be considered in patients who have got anatomy where complete revascularization can be achieved by a percutaneous procedure and also in all those patients who have very high operative risk and have been turned down by the surgeons and are having intractable symptoms. OFFCOURSE the patient's preference in choosing the treatment modality is always supreme.
Dr Prem Aggarwal is a renowned cardiologist and founder of Medical Dialogues.