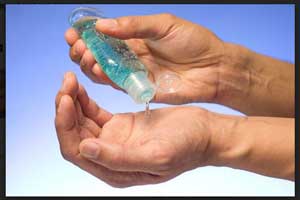 Potentially harmful antibiotic-resistant bacteria are now developing resistance to common alcohol-based hand gels, according to a study recently published in the journal Science Translation Medicine.
Alcohol-based disinfectants and particularly hand rubs are a key way to control hospital infections worldwide. Such disinfectants restrict transmission of pathogens, such as multidrug-resistant Staphylococcus aureus and Enterococcus faecium. Despite this, health care infections caused by E. faecium are increasing.
Sacha J. Pidot and his associates conducted a study to find out whether the multidrug-resistant bacterium Enterococcus faecium has become increasingly tolerant to the alcohols in widely used hospital disinfectants such as hand rub solutions.
According to microbiologist Timothy Stinear, hospital-acquired infections are generally caused by a microorganism known as Enterococcus faecium which is becoming resistant to antibiotics at an increasing rate.
"It's a WHO [World Health Organization] and CDC-recognized superbug," Stinear said. "In the hospital, it is already resistant to nearly all classes of antibiotics."
The investigators tested alcohol tolerance of 139 hospital isolates of E. faecium obtained between 1997 and 2015 and found that E. faecium isolates after 2010 were 10-fold more tolerant to killing by alcohol than were older isolates.
Using a mouse gut colonization model of E. faecium transmission, the researchers showed alcohol-tolerant E. faecium resisted standard 70% isopropanol surface disinfection, resulting in greater mouse gut colonization compared to alcohol-sensitive E. faecium. After that, the authors tried to find out bacterial genomic signatures of adaptation. The found that alcohol-tolerant E. faecium accumulated mutations in genes were involved in carbohydrate uptake and metabolism. Mutagenesis confirmed the roles of these genes in the tolerance of E. faecium to isopropanol.
E.faecium and other enterococci are bacteria found in the gut and typically are not hostile or harmful. However, these germs have emerged as a major cause of hospital-associated bacterial infections. This family of bacteria account for a tenth of hospital-acquired bacterial infections worldwide and are the fourth and fifth leading cause of blood poisoning in North America and Europe, respectively.

Read Also: High-salt diet may kill off 'good' gut bacteria
Genetic analysis of alcohol-resistant bacteria found that they had developed several mutations in genes linked to cell metabolism. These mutations appear to make the cellular membranes of E. faecium more resistant to solvents like alcohol.
"We were able to identify and document the specific genetic changes that have occurred in the bacteria over the 20 years, which also helps to explain the increased tolerance," Stinear said.
These mutations have developed as hospitals have become more stringent in infection control, relying heavily on alcohol-based rubs as a way to keep harmful pathogens from spreading", he explained.
The investigators suggested that harsher hand rubs containing higher concentrations of alcohol will be needed to overcome this resistance and hospitals also need to make sure that the rubs are used thoroughly by staff, making sure that all skin surfaces on the hand are covered and given enough contact time to kill the micro-organism. Moreover, there also should be an enhanced focus on hospital cleaning as well as isolation of patients found to be colonized with antibiotic-resistant bacteria.
The study concluded that bacterial adaptation is making infection control recommendations more tedious which necessitates additional procedures to prevent E. faecium from spreading in hospital settings.
For reference log on to 10.1126/scitranslmed.aar6115