And now a new App for Birth control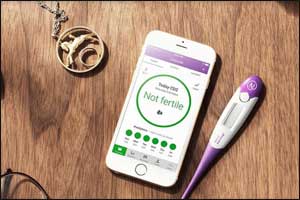 Dr.Elina Berglund Scherwitzl is a Swedish particle physicist who has been member of Nobel prize-winning team has developed an algorithm which is as effective as the birth control pill.She has developed an App which works by combining citizen science, data analysis and algorithms.It is surely an effective, and drug-free alternative of birth control.
According to a recently published study by Dr.Elina Berglundalong with her husband, the app Natural Cycles is 93% effective with normal use and 99% effective with perfect use.The users take their temperature with a special, clinical thermometer and input the data into the app every morning. They also have to record the first day of their period. This data is used to determine when a user is ovulating and thus able to get pregnant. The app then advises when a user can have sex without getting pregnant.The app can also be used for fertility and period tracking, which busy women know is an incredibly useful life hack.
The traditional birth control pills developed for women have serious side effects like Depression and Breast Cancer.But the newly developed App Natural Cycles is cheap and has no side effects.Natural Cycles is the only medical app that has been certified in the EU as a Medical Device for use in Contraception.
Women are only at risk of pregnancy during their fertile window. This is the day of ovulation and taking sperm survival in the body into account, the five preceding days.¹ Without knowing when these 6 days are, contraception is needed throughout the cycle.
Natural Cycles identifies the fertile window for each individual woman, based on her unique cycle pattern, changes in hormone levels and temperature fluctuations. Established biological indicators of ovulation include:


A temperature rise of 0.2 – 0.45°C (0.54 °F), when progesterone is released


A surge in luteinising hormone (LH) approx. 48 hours prior to ovulation


The Natural Cycles unique algorithm analyses a woman's basal body temperature (BBT) and identifies when ovulation has occurred and the woman is no longer fertile. By measuring the basal temperature in the morning (5 values per week are recommended) and entering the data into the app it gets to know the woman and her individual menstrual cycle. After 1-3 cycles of measuring, the app has enough data to confirm when ovulation has occurred and accurately predict the fertile window.
This article first appeared on Particle.
Source : Particle