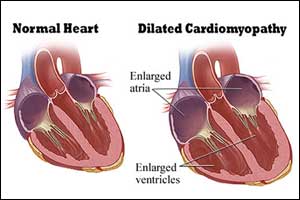 In a report published in the Annals of Internal Medicine, doctors describe the case of a patient with dilated cardiomyopathy who experienced rapid clinical improvements with the use of anakinra, the recombinant form of the endogenous antagonist for the interleukin-1 receptor.
Dilated cardiomyopathy is a severe, irreversible form of heart disease characterized by left ventricular systolic dysfunction and dilation that is not explained by abnormal loading or coronary artery disease. The current mainstay of treatment is the symptomatic management of heart failure and arrhythmia. Novel, effective therapeutic options are an unmet clinical need.
Giacomo De Luca,  from the Vita-Salute San Raffaele University in Milan, and colleagues present the case of a 57-year-old man with a two-year history of dilated cardiomyopathy who was hospitalized for chronic fatigue and dyspnea, which was secondary to New York Heart Association class III heart failure.
Also Read: Men have worse chemotherapy-induced cardiomyopathy than women
The researchers note that the patient was initially treated with diuretics, β-blockers, and angiotensin-converting enzyme inhibitors. Six months later, when he was still symptomatic, the patient was determined to have met the criteria for idiopathic inflammatory dilated cardiomyopathy, and initiated treatment with anakinra. Within two weeks, the patient's clinical symptoms related to heart failure had improved markedly, to New York Heart Association class I. An increase in the left ventricular ejection fraction was revealed on transthoracic echocardiography, and troponin T and N-terminal pro-B type natriuretic peptide levels normalized.
"The central role of inflammation in heart failure is now established, and the heart exhibits a stereotyped inflammatory response to injury that is mediated by interleukin-1. Selective inhibition of this cytokine has thus emerged as an intriguing therapeutic opportunity," the authors write.
"Because of our experience and what is already known about anakinra, we believe that this treatment and the role of chronic low-grade inflammation in dilated cardiomyopathy deserve further investigation," they conclude.