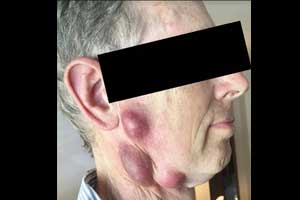 Laura Marks, at Barnes–Jewish Hospital, St. Louis and colleagues have reported an interesting case of Glandular Tularemia that has appeared in NEJM.
Tularemia is a rare infectious disease that typically attacks the skin, eyes, lymph nodes and lungs. Tularemia — also called rabbit fever or deer fly fever — is caused by the bacterium Francisella tularensis. Tularemia spreads to humans through several routes, including insect bites and direct exposure to an infected animal.
Various types of Tularemia include
Ulceroglandular tularemia
Glandular tularemia
Oculoglandular tularemia
Oropharyngeal tularemia
Pneumonic tularemia
Typhoidal tularemia
Courtesy NEJM
According to the history, a  68-year-old man from Missouri presented to the clinic with a history of 1 week of fever followed by 2 months of progressive, painful swelling on the right side of his neck. He reported that about  2 days before the onset of his symptoms, his outdoor cat had died from a subacute illness; and a veterinarian had diagnosed feline leukaemia without laboratory testing The cat had been treated with prednisone, which was given by the patient.
On examination of the patient three erythematous, tender lymph nodes were identified. The rest of his physical examination was normal. The serologic testing with IgM antibody was positive for Francisella tularensis (titer, 1:1280). Therefore a diagnosis of glandular tularemia was made. Glandular tularemia is the second most common manifestation of tularemia after the ulceroglandular form. Because culture requires biosafety level 3 conditions, diagnosis is often confirmed serologically.
Domestic cats can become infected through the consumption of infected prey and can transmit the bacteria to humans. The patient was treated with doxycycline for 4 weeks; the lesions improved within 5 days and resolved within 3 weeks.
The carry home message is that if you've been bitten by a tick or handled a wild animal in an area where tularemia is found and have developed fever, skin ulcers or swollen glands — see a doctor as soon as possible.
For more details click on the link: DOI: 10.1056/NEJMicm1801531