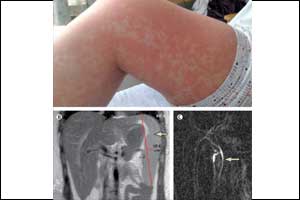 A 23-year-old woman presented to the emergency department in December, 2016, with a 10-day history of vomiting, myalgia, and upper abdominal pain. 3 days before presentation she had seen her general practitioner who prescribed empirical clarithromycin, with no improvement in her symptoms, and 2 days later she developed jaundice and pruritus, prompting her attendance at our hospital. She had a history of ulcerative colitis with a pan-proctocolectomy and end ileostomy. She took no regular medication, rarely drank alcohol, and had no history of travel abroad or recent blood transfusions.
On examination, she was jaundiced, with fever (38·0°C) and tachycardia (120 beats per min). Other vital signs were normal. She had tenderness in the upper abdomen, but neither the liver or spleen was palpable and she had no signs of chronic liver disease. The stoma was pink and healthy. Oropharyngeal examination was normal, and she had no lymphadenopathy or organomegaly.
Blood tests for liver function showed alanine aminotransferase (ALT) was 374 U/L (normal 10–36 U/L), alkaline phosphatase (ALP) was 326 U/L (30–130 U/L), and bilirubin was 108 μmol/L (<21 μmol/L). Her ALP 2 months previously had been 86 U/L. C-reactive protein was 7·2 mg/L (<5 mg/L), haemoglobin was 151 g/L (120–160 g/L), and her white cell count was 18·1 × 109 per L (3·9–11·1 × 109 per L), with lymphocytes 14·48 × 109 cells per L (1·0–3·2 × 109 per L). Transabdominal ultrasound showed a thick-walled gallbladder with multiple stones; the downstream common bile duct was not well visualised but there was no intrahepatic or proximal extrahepatic biliary duct dilatation. The spleen was enlarged, measuring greater than 12 cm.
She was given a clinical diagnosis of ascending cholangitis and started on intravenous fluids and a loading dose of piperacillin with tazobactam, followed by amoxicillin, gentamicin, and metronidazole. Her symptoms did not improve. On the third day of hospital admission she developed bilateral parotitis and an itchy maculopapular morbilliform rash across her back and torso, which rapidly spread to the proximal aspects of all four limbs. A magnetic resonance cholangiopancreatography (MRCP), requested to exclude a small retained common bile duct calculus that had not been visualised on ultrasound, showed no evidence of choledocholithiasis but did show splenomegaly .
Two gastroenterologists, asked to review the patient, made a clinical diagnosis of Epstein-Barr virus (EBV) hepatitis complicated by an amoxicillin rash. The antibiotics were stopped and the rash faded rapidly. At follow-up 1 month later, the patient was asymptomatic and her liver blood tests had normalised. The diagnosis of acute EBV infection was confirmed by viral serology, which showed a positive glandular fever screen and that the patient was negative for EBV nuclear antigen IgG, and positive for EBV viral capsid IgG antibody and EBV viral capsid IgM antibody.
The triad of jaundice, lymphocytosis, and splenomegaly, as seen in our patient, is present in about 90% of cases and is highly predictive of the diagnosis of EBV hepatitis. Patients with EBV infection should not be given amoxicillin or ampicillin, as this is likely to produce a morbilliform rash.
For more details click on the link: DOI: http://dx.doi.org/10.1016/S0140-6736(17)31935-9