An extra cup of coffee a day improves kidney function, protects against CKD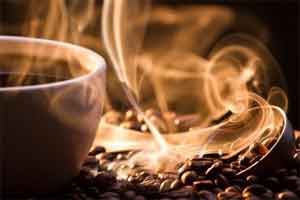 UK: Coffee is the most widely consumed beverage in the world. Its consumption has been linked to many health benefits, adding to its list of benefits, a recent study has found coffee to be associated with an improved kidney function. The findings of the study, published in the American Journal of Kidney Diseases, could have significant implications for global public health given the increasing burden of chronic kidney disease (CKD) worldwide.
Chronic kidney disease (CKD) is a condition characterized by gradual loss of kidney function that impairs the kidney's ability to filter wastes and excess fluids from the blood. If not treated properly, it can progress to end-stage kidney failure, which is fatal without dialysis or a kidney transplant.
According to WHO, often considered comorbidity of diabetes or hypertension, CKD has numerous complex causes. This can have an indirect impact on global mortality and morbidity by increasing the risks associated with other major killers -- cardiovascular diseases, diabetes, hypertension, infection with human immunodeficiency virus (HIV) and malaria. For example, the Global Burden of Disease (GBD) 2015 study estimated that 1.2 million deaths, 19 million disability-adjusted life-years (DALYs) and 18 million years of life lost from cardiovascular diseases were directly attributable to reduced glomerular filtration rates.
The Genome-wide association study (GWAS) by Oliver J. Kennedy, Primary Care & Population Sciences Faculty of Medicine, University of Southampton, and colleagues aimed to determine the impact of coffee consumption on kidney function.
For the purpose, the researchers used UK biobank baseline data for the coffee consumption genome-wide association study, examining the data of 227,666 patients. They also used CKDGen Consortium data for kidney outcomes, which included 133,814 patients and 12,385 cases of chronic kidney disease of mostly European ancestry across numerous countries.
The outcomes of the study were estimated glomerular filtration rate (eGFR), CKD GFR categories 3-5 G3-G5; eGFR < 60 mL/min/1.73 m2), and albuminuria -- defined as urinary albumin-creatinine ratio > 17 mg/g (>1.92 mg/mmol) in men and >25 mg/g (>2.83 mg/mmol) in women.
Read Also: Chronic kidney disease linked to 95% increased risk of heart attack, finds Mayo Clinic study
Key findings of the study include:


2,126 single-nucleotide polymorphisms (SNPs) were associated with coffee consumption (P < 5 × 10−8), 25 of which were independent and available in CKDGen.


Drinking an extra cup of coffee per day conferred a protective effect against CKD G3-G5 (OR, 0.84) and albuminuria (OR, 0.81).


An extra cup was also associated with higher eGFR (β = 0.022; P = 1.6 × 10−6) after the removal of 3 SNPs responsible for significant heterogeneity (Cochran Q P = 3.5 × 10−15).


Read Also: Chronic kidney disease negatively impacts coronary revascularization outcomes: JACC Study
"This MR analysis suggests a protective role of drinking coffee in maintaining kidney health among regular coffee drinkers," wrote the authors.
"Next steps should include further MR studies to investigate associations of coffee with important risk factors, particularly diabetes and hypertension, which may mediate the effect on CKD. A nonlinear dose-response at higher levels of consumption should also be investigated. This will better define the potential role of coffee in preventing CKD onset and progression and inform the design of a randomized controlled trial with a coffee-based intervention," they concluded.
The study, "Coffee Consumption and Kidney Function: A Mendelian Randomization Study," is published in the American Journal of Kidney Diseases.
Source : American Journal of Kidney Diseases