Amniotic Membrane Transplantation in ophthalmology: Beyond Biological Dressing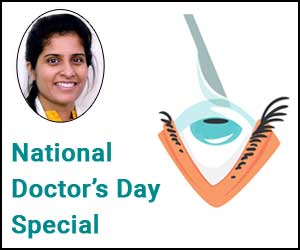 Amniotic Membrane Transplantation (AMT) involves the use of the human amniotic membrane or "Amnion" derived from the innermost lining of the placenta, as a graft or biological dressing. The use of foetal membranes was first reported in 1910, by Dr. Davis JW for skin transplantation, which subsequently found its application in different fields of medicine. Ever since, its use has expanded to treat burns and wounds of the skin, chronic non-healing ulcers of the leg and in surgeries of the abdomen, pelvis, head and neck region and many more. Since its first introduction to the field of Ophthalmology by Dr. deRotth A in the 1940s to treat ocular surface disorders and subsequently popularized in the 90s by Tseng and colleague, the scope and application of this procedure has remarkably increased
over the years.
Advantages of the amniotic membrane:
At full term gestation, there are two foetal membranes present in the embryonic sac, the outer layer of "Chorion", that is in proximity to the maternal tissues and the
innermost "Amnion". Amnion is a single layer of columnar cells derived from ectodermal tissue, lying on a bed of mesenchymal tissue composed of collagen. The Amniotic membrane has several unique characteristics, that make it a preferable choice for use in the management of ocular surface disorders. The tissue is abundantly available, easily obtainable and can be preserved for several months at -80 0 C. Its lack of expression of HLA A, B, or DR antigens, results in lack of immunogenicity and eliminates the chance of immunological rejection after transplantation. It is reported to have an anti-microbial activity that can help in preventing post-operative infections. In addition, it also promotes cellular migration and growth and has an anti-fibrotic activity that can help in modulating tissue scarring.
Mechanism of action:
The Amniotic membrane serves as a transplanted Basement membrane that acts as a healthy substrate and aids in proper epithelization. It helps is epithelial wound healing by promoting the migration and growth of these cells, the adhesion of the basal cells of epithelium and in the differentiation of these cells. It also has anti-fibrotic activity that can downregulate the fibroblastic proliferation and helps in modulating tissue scarring. In addition, it also serves as an anatomical barrier that can keep adhesive surfaces apart, which is especially useful in ocular surface chemical burns.
Procurement and processing of the tissue and establishing safety:
The amniotic membrane is extracted from the human placenta procured after an elective Caesarean delivery. As transmission of infections to the recipient is a potential risk due to the human tissue involved, the donor is screened for any seropositivity like HIV and Hepatitis B/C and other transmissible infections. Consent for the donation and use in transplantation should be obtained.
After the microbiological safety is established, the placenta is thoroughly washed to clear the blood clots using balanced salt solution containing antibiotics (50 μg/ml of penicillin, 50 μg/ml of streptomycin, 100 μg/ml of neomycin, and 2.5 μg/ml of amphotericin B) under a laminar hood flow. After washing, the Amnion is separated from the underlying chorion by blunt dissection. The amniotic membrane has 2 surfaces, one being the epithelial side and the other being a mesenchymal/stromal side, which is generally sticky. The membrane is secured preferably over a nitrocellulose filter paper with the epithelial side up under sterile conditions and can be marked for identification of orientation. The membrane is then cut to preferred sizes and preserved in a vial with storage medium (Dulbecco's modified Eagle's medium and glycerol). Contamination of the tissue should be prevented at all stages of preparation and preserved. It can be used as both fresh and freeze-dried forms.
Surgical technique:
The amniotic membrane should be transplanted with epithelial side upwards for it to adhere to the underlying tissues. After spreading it over the ocular surface, it should be trimmed to desired size and shape and then secured with sutures or fibrin glue. The amniotic membrane can fail to attach if the mesenchymal/ stromal side is not in contact with the host tissues or if it is not secured adequately with sutures/ fibrin glue. Presence of severe inflammation can lead to early melt/ disintegration of the membrane before epithelization.
Applications in Ophthalmology:
The Amniotic Membrane Transplantation has been used as a part of various ocular surface reconstructive or therapeutic procedures, owing to the numerous advantages it offers. AMT has been used successfully in the treatment of persistent epithelial defects that are non-responsive to medical therapy. It is also used to promote epithelial healing and prevent adhesion between raw surfaces in the treatment of acute chemical burns and acute Stevens Johnsons syndrome. It is also used to treat Limbal stem cell deficiency by using AMT as a biological scaffold that can aid in the migration and proliferation of epithelial cells during Limbal stem cell transplantation. It is also successfully used in Pterygium surgery, especially in the treatment of recurrent Pterygia. Numerous other applications of AMT include its use in the surgical treatment of ocular surface squamous neoplasia (OSSN), leaking filtering blebs, corneal perforations and in Oculoplastic surgery. Fortifying of the amniotic membrane with antimicrobial agents is an interesting application being tried out for treating ocular infection, that can expand its areas of application further.
Conclusion:
Amniotic membrane transplantation has now become a vital part in ocular surface reconstructive procedures with its application increasing over the years. Following strict protocols during the procurement and processing as well as during establishing safety of the tissue is extremely vital. Though AMT has been found to give favourable results in most scenarios, it should be used safely, judiciously and appropriately to achieve best results for our patients.
Dr Pragnya Rao is a Consultant ophthalmologist, in the Cornea and Anterior Segment Services, Cataract and Refractive Services, L V Prasad Eye Institute, Hyderabad.