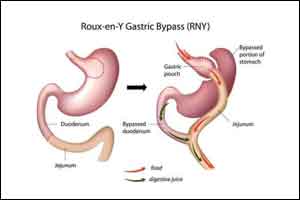 U.S. Food and Drug Administration (FDA) had approved Intragastric balloons in 2015 for the treatment of obesity in patients with a body mass index (BMI) of between 30 and 40.After lot of deliberation ,extensive review and analysis of safety and effectiveness data, the American Society for Metabolic and Bariatric Surgery (ASMBS) has added the intragastric balloon to its list of approved procedures and devices.
The ASMBS estimates that about 5,000 intragastric balloons have been implanted since its FDA approval, which represents less than 3 percent of the 216,000 bariatric surgeries performed in the United States in 2016.
"Intragastric balloon procedures may fill a treatment gap between medication and weight loss surgery and should be considered a standard intervention in the continuum of care for patients with obesity," said Samer Mattar, MD, ASMBS President. "However, insurance coverage for this procedure, despite its FDA approval, is currently non-existent. It is our hope that ASMBS approval and the body of evidence that supports the appropriate use of the device will lead to greater access to this new treatment option."
For a procedure or device to get approval from the ASMBS, an application must be submitted by a society member in active practice. The application is preliminarily reviewed by the ASMBS Executive Committee, where three-quarters must agree to submit it for full review to the ASMBS Pathway for Approval of New Devices and Procedures Committee, which was formed in 2016 in response to the growing number of new products and procedures emerging for the treatment of obesity.
Once the committee review is complete, the pros and cons of the device or procedure are presented to the Executive Committee who can either accept or reject the application or vote to post it for ASMBS member comment. After comments from ASMBS members are received, at least 75 percent of the Executive Committee must approve the application before the device is endorsed and sanctioned by the ASMBS.
In addition to the intragastric balloon, ASMBS approved devices and procedures include:
Roux-en-Y Gastric Bypass
Duodenal Switch
Sleeve Gastrectomy
Adjustable Gastric Banding
Bariatric Reoperative Procedures
Open procedures, as deemed appropriate by the surgeon
The members of the ASMBS Pathway for Approval of New Devices and Procedures Committee include the current chairs of Clinical Issues, Insurance, Quality, and Emerging Technology committees and the president of ASMBS Integrated Health.