Ambrisentan, tadalafil combo for severe PAH, recommend new ACC guidelines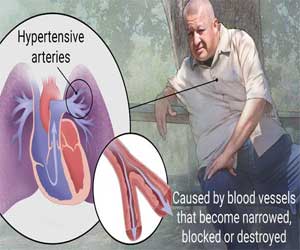 American College of Chest Physicians in its new guideline has recommended initial combination therapy with ambrisentan and tadalafil in severe PAH patients. The updated guideline was published in CHEST, the official publication of American College of Chest Physicians.
Pulmonary arterial hypertension (PAH) is one form of a broader condition known as pulmonary hypertension, which means high blood pressure in the lungs. In PAH, increased pressure in the vessels is caused by an obstruction in the small arteries in the lung. The disease leads to right-sided heart failure and death. There is no cure for this disease, although, several medications have been approved for the treatment of the disease. There are four functional classes that are used to rate the severity of Pulmonary Hypertension. The WHO functional class system gives information about how much the patient is affected by this disease. The higher the class, the more severe is the disease, and more urgency is required.
"New recommendations and ungraded consensus-based statements were developed in this update based on new studies that were published since the 2014 guidelines. In addition, an evidence-based and consensus-driven treatment algorithm was created to guide the clinician through an organized approach to management," says CHEST Pulmonary Arterial Hypertension Guidelines Committee Co-Chair, Dr Deborah Jo Levine.
As part of the guideline development process, the panel updated the systematic review on the same clinical questions and criteria. In the latest evidence-based guideline, the expert panel has added two new recommendations for Pharmacologic therapy of PAH:
* For treatment-naive patients with PAH who are World Health Organization (WHO) functional class II and III, we suggest initial combination therapy with ambrisentan and tadalafil to improve six-minute walk distance (6MWD).
* For stable or symptomatic patients with PAH on background therapy with ambrisentan, we suggest the addition of tadalafil to improve 6MWD.
To read the complete guideline please click on the link below.
https://journal.chestnet.org/article/S0012-3692(19)30002-9/fulltext