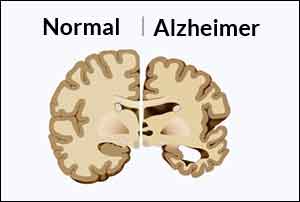 A new study has demonstrated the potential to use a frequency distribution-based index of brain functional connectivity as a biomarker for detecting Alzheimer's disease and mild cognitive impairment (MCI). These new findings, which show the index of functional connectivity to have good accuracy across databases and test sites, are published in Brain Connectivity, a peer-reviewed journal from Mary Ann Liebert, Inc., publishers. The article is available free on the Brain Connectivity website until October 13, 2017.
The article entitled "Can a Resting-State Functional Connectivity Index Identify Patients with Alzheimer's Disease and Mild Cognitive Impairment Across Multiple Sites?" was coauthored by Keiichi Onoda and colleagues from Shimane University (Japan), representing the Alzheimer's Disease Neuroimaging Initiative (ADNI). The researchers compared multi-variant pattern analysis (MVPA) and a frequency distribution-based index approach to evaluate functional connectivity and determine which method yielded consistent results across two different databases and sites that were part of the ADNI.
"Dr. Onoda and colleagues are among the first researchers to test the predictive power of their computer image analysis methods to detect Alzheimer's disease and mild cognitive impairment on several large publicly available imaging databases," states Christopher Pawela, PhD, Editor-in-Chief of Brain Connectivity and Assistant Professor, Medical College of Wisconsin. "The potential for any imaging biomarker to find widespread clinical usage depends on its ability to predict disease correctly in a large number of subjects. These researchers have made progress towards this goal by developing a biomarker that shows promise in these large imaging databases."
For more details click on the link : http://online.liebertpub.com/doi/10.1089/brain.2017.0507
The following two tabs change content below.
Anjali Nimesh
Anjali Nimesh Joined Medical Dialogue as Reporter in 2016. she covers all the medical specialty news in different medical categories. She also covers the Medical guidelines, Medical Journals, rare medical surgeries as well as all the updates in medical filed. She is a graduate from Dr. Bhimrao Ambedkar University. She can be contacted at editorial@medicaldialogues.in Contact no. 011-43720751
Latest posts by Anjali Nimesh (see all)