Alternative cancer treatment may even cause death : FDA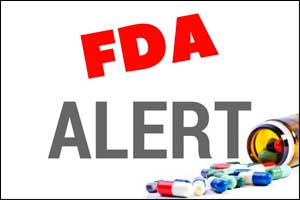 The U.S. Food and Drug Administration (FDA) has issued a warning to healthcare professionals about potential health risks associated with cesium chloride -- a mineral salt that is sometimes taken either by mouth or by injection into the body, by cancer patients as an alternative treatment. Cesium chloride is not approved by FDA for the treatment of cancer or any other disease.
FDA has identified 23 reports that describe serious adverse events associated with cesium, including heart problems, 5 reports submitted to FDA and 18 published in the medical literature. Seventeen of those reports were associated with CsCl, compared to 6 with other cesium salts like cesium carbonate The reported adverse events include low potassium, seizures, cardiac arrest, QT prolongation, fainting, potentially lethal arrhythmias and death have been associated with cesium use.
Read Also: One in four patients seek help from alternative system of medicine
In the 23 cases identified these adverse events were associated with both oral and injectable formulations of cesium with doses ranging from 500mg taken daily to 100g taken over 11 days. In cases where cesium concentrations were measured, users were found to have extremely high levels of cesium in the body (several hundred to thousand-fold higher than normal).
Six deaths were reported with the use of cesium. FDA considers two of these deaths to be possibly associated with cesium chloride. The reports for these two deaths described cardiac arrest or arrhythmia occurring during, or within 24 hours of injection, of cesium.
"The use of cesium poses significant safety risks (e.g., heart toxicity) and is potentially associated with death. These events can occur with oral administration and/or injection. This raises serious concerns about its use in compounding. Therefore, FDA has decided to move CsCl to the category of substances that present significant safety risks in compounding. Consumers, patients, and health care professionals should be aware of the significant potential health risks from cesium," FDA writes in its press release.
Source : press release