Alpha Blockers help in expulsion of kidney stones, finds new study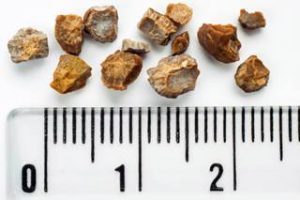 A new study published in the journal BJU International has reported that α-blockers likely increase stone clearance in patients with ureteric stones.
Ureteral colic is a common reason for patients to seek medical care. Alpha‐blockers are medications that relax muscles in the urinary tract and may make the stone pass into the bladder faster. They are commonly used to improve stone passage through so-called medical expulsive therapy (MET), but their effectiveness remains controversial.
Read Also: Tamsulosin not useful in expulsion of small Ureteral Stones : JAMA
Campschroer and his colleagues conducted a systematic review and meta-analysis to assess effects of alpha-blockers compared with standard therapy for ureteral stones 1 cm or smaller confirmed by imaging in adult patients presenting with symptoms of the ureteral stone disease.
The investigators extracted the data from CENTRAL, MEDLINE Ovid, and Embase. They also searched ClinicalTrials.gov and the WHO Portal/ICTRP to identify all published/unpublished and ongoing trials. After that, all references of included and review articles and conference proceedings for articles relevant to this review were checked.
A total of 67 studies, with 10 509 participants were included. Of these, 15 studies with 5 787 participants used a placebo.
Read Also: Do Alpha-blockers improve outcomes of patients of ureteral stones?
The study found that stone clearance: treatment with an α-blocker may result in a large increase in stone clearance (low-quality evidence), corresponding to 278 more stone clearances per 1 000 participants. For major adverse events, treatment with an α-blocker may have little effect (low-quality evidence), which corresponds to five more major adverse events per 1 000 participants. Patients treated with α-blockers may also experience shorter stone expulsion times, and likely require fewer hospitalizations. Meanwhile, the need for surgical intervention appears similar.
Based on a pre-defined subgroup analysis, there may be a different effect of α-blockers based on stone size less than 5mm and greater than 5mm.
The systematic review suggested that alpha blockers may be effective in treating ureteral stones, with increased comparative effectiveness for stones >5 mm. However, much of the evidence supporting this was graded as low-quality.
For full information log on to https://www.cochranelibrary.com/cdsr/doi/10.1002/14651858.CD008509.pub3/full
Source : With inputs from BJU International