Baldness can now be treated with platelet-rich plasma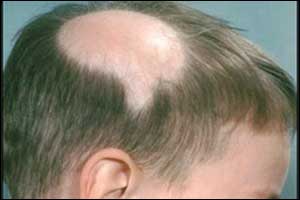 Treatment with platelet-rich plasma (PRP) in patients with androgenetic alopecia or baldness yielded promising results, according to a new study published in the Journal of the American Academy of Dermatology.
Androgenic alopecia is a very common type of permanent hair loss observed in both males and females resulting in baldness. Androgenic alopecia or male pattern baldness has a significant influence on psychological distress and is associated with low self-esteem and depression. Treatment options for androgenic alopecia are very limited and include topical minoxidil and oral finasteride (FDA approved) either alone or in combination. However, there are several reported side effects such as a headache and increase in other body hairs for minoxidil whereas loss of libido has been reported with oral finasteride.
Bruno L. Rodrigues, Hemocentro, Hemostasis Laboratory, University of Campinas UNICAMP, Brazil, and colleagues conducted the study to analyze the platelet number and growth factor levels in PRP and its correlation with hair growth parameters evaluated by TrichoScan.
For the study, twenty-six patients were randomized to receive four subcutaneous injections of PRP or saline. Hair growth, hair density, and percentage of anagen hairs were evaluated before, after and three months after the last injection using the TrichoScan method. Growth factors (PDGF, EGF, and VEGF) were measured by the Luminex method.
The authors demonstrated a significant increase in hair count (p = 0.0016), hair density (p = 0.012) and percentage of anagen hairs (p = 0.007) in PRP group when compared to control group, without correlation with platelet counts or quantification of the growth factors in PRP.
"Our data favor the use of PRP as a therapeutic alternative in the treatment of androgenetic alopecia. The lack of association between platelet count, PDGF, EGF and VEGF levels and clinical improvement suggests that other mechanisms could be involved in this response," write the authors.
"Other growth factors that could be related with PRP response were not evaluated."
For further reference follow the link: https://doi.org/10.1016/j.jaad.2018.09.033