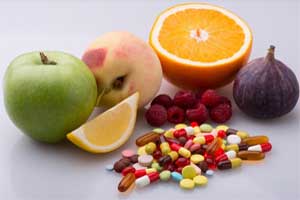 Dr.JoAnn E. Manson has very beautifully outlined various aspects of use of Vitamin and Mineral Supplements in an article published online in JAMA with title Vitamin and Mineral Supplements –What Clinicians Need to Know. The authors have covered specific need of these supplements in special conditions like Pregnancy, Infancy and Childhood and Midlife and Older Adults.This endeavour of authors shall provide information to help clinicians address frequently asked questions about micronutrient supplements from patients, as well as promote appropriate use and curb inappropriate use of such supplements among generally healthy individuals.
Healthy Diet may provide most of requirement of patients with respect to Vitamins and Minerals and Clinicians should also highlight the many advantages of obtaining vitamins and minerals from food instead of from supplements. Micronutrients in food are typically better absorbed by the body and are associated with fewer potential adverse effects.
Key Points on Vitamin and Mineral Supplements
General Guidance for Supplementation in a Healthy Population by Life Stage
Pregnancy: folic acid, prenatal vitamins

Infants and children: for breastfed infants, vitamin D until weaning and iron from age 4-6 mo

Midlife and older adults: some may benefit from supplemental vitamin B12, vitamin D, and/or calcium
Guidance for Supplementation in High-Risk Subgroups
Medical conditions that interfere with nutrient absorption or metabolism:

Bariatric surgery: fat-soluble vitamins, B vitamins, iron, calcium, zinc, copper, multivitamins/multiminerals

Pernicious anemia: vitamin B12 (1-2 mg/d orally or 0.1-1 mg/mo intramuscularly)

Crohn disease, other inflammatory bowel diseases, celiac disease: iron, B vitamins, vitamin D, zinc, magnesium

Osteoporosis or other bone health issues: vitamin D, calcium, magnesiuma

Age-related macular degeneration: specific formulation of antioxidant vitamins, zinc, copper

Medications (long-term use):

Proton pump inhibitorsa: vitamin B12, calcium, magnesium

Metformina: vitamin B12

Restricted or suboptimal eating patterns: multivitamins/multiminerals, vitamin B12, calcium, vitamin D, magnesium
The authors have suggested that while reviewing medications with patients, clinicians should ask about use of micronutrient (and botanical or other dietary) supplements in counseling about potential interactions. For example, supplemental vitamin K can decrease the effectiveness of warfarin, and biotin (vitamin B7) can interfere with the accuracy of cardiac troponin and other laboratory tests. Patient-friendly interaction checkers are available free of charge online (search for interaction checkers on drugs.com, WebMD, or pharmacy websites).