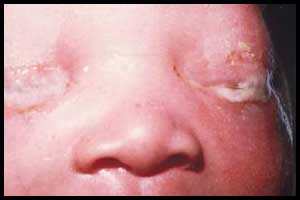 The U.S. Preventive Services Task Force (USPSTF) recommends that all newborns should receive ocular prophylaxis to prevent gonococcal ophthalmia neonatorum(GON). Ophthalmia neonatorum is conjunctivitis occurring in infants during the first month of life. Newborns at increased risk of GON include those with a maternal history of sexually transmitted infections, substance abuse, or no prenatal care.
There is a strong evidence that ocular prophylaxis with 0.5% erythromycin ophthalmic ointment can prevent gonococcal ophthalmia neonatorum. GON can cause corneal scarring, ocular perforation, and blindness as early as 24 hours after birth In the absence of ocular prophylaxis, transmission rates of gonococcal infection from mother to newborn are 30% to 50%.
In 2011, the USPSTF reviewed the evidence on prophylactic ocular topical medication for all newborns to prevent gonococcal infection of newborn and issued an A recommendation. To reaffirm its 2011 recommendation on ocular prophylaxis for gonococcal ophthalmia neonatorum, the USPSTF commissioned a targeted evidence review to identify substantial new evidence that was sufficient to change the prior recommendation.
Read Also:Conjunctivitis- Standard Treatment Guidelines
As per USPSTF, though erythromycin ophthalmic ointment is currently the only drug approved by the FDA for gonococcal ophthalmia neonatorum, screening for and treating the gonococcal infection can be an additional preventive strategy.
The incidence of this infection is related to the gonococcal infection rates in women of reproductive age. Accordingly, the screening for and treatment of gonococcal infection in pregnant women is an important strategy for reducing the sexual transmission of gonorrhea and subsequent vertical transmission leading to gonococcal ophthalmia neonatorum. Therefore, the ocular prophylaxis remains an important tool in the prevention of gonococcal ophthalmia neonatorum. The USPSTF recommends screening for gonorrhoea in all sexually active women age 24 years and younger and in older women at increased risk for infection, including pregnant women.
For reference log on to
U.S. Preventive Services Task Force