All febrile patients must be tested for malaria and dengue both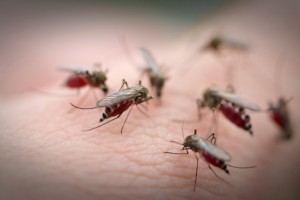 According to a new study, all febrile patients must be tested for both malaria and dengue in order to avoid a chance of missing other diseases in case of concurrent infections.In an eventuality of missing the diagnosis of concurrent infection one may have to face a severe disease with complications.The study has been published in the Indian Journal of Medical Microbiology.
Vector-borne infections such as malaria and dengue are of major public health concern worldwide. The former is a parasitic disease transmitted by Anopheles mosquito, and the latter is a viral disease transmitted by Aedes mosquito.In a geographical area where both the vectors coexist, simultaneous occurrence of malaria and dengue in an individual cannot be ruled out. The two diseases share many clinical features and may be clinically indistinguishable. It is important; however, to differentiate between the two conditions, otherwise, it may result in a poor outcome.
Dr.Parul D Shah and associate in an Observational, retrospective cross-sectional study evaluated incidence of dengue and malaria co-infection as well as to ascertain the severity of such dengue and malaria co-infection based on clinical and haematological parameters.
The researchers examined a total of 8364 serum samples from clinically suspected cases of fever compatible with malaria and/or dengue were collected. All samples were tested for dengue NS-1 antigen before 5 days of onset of illness and for dengue IgM after 5 days of onset of illness. In all samples, malaria diagnosis was based on the identification of Plasmodium parasites on a thin and thick blood films microscopy.
A total of 859 (10.27%) patients with fever were tested positive for dengue and 434 (5.1%) were tested positive for malaria. Nearly 27 (3.14%) patients with dengue had the concurrent malarial infection. Other complications such as hepatomegaly and jaundice were diagnosed in 10 (37.03%) patients, hemorrhagic manifestations in 5 (18.51%) and kidney failure in 1 (3.7%) patients. Haematological parameters such as: haemoglobin <12 g/dL in 27 (100%) patients and thrombocytopenia (platelet count, <150,000/cmm) in 26 (96.29%) patients were common in malaria and dengue co‑infection and were more common in Plasmodium falciparum infections.
The researchers concluded that all febrile patients must be tested for malaria and dengue, both otherwise one of them will be missed in case of concurrent infections which could lead to severe diseases with complications."Coexistence of malaria and dengue is very important to understand as both have similar sign and symptoms but entirely different treatment protocols", the authors said.
Source : IJMM