Aliskiren added to losartan increases hyperkalemia risk in non-diabetic CKD patients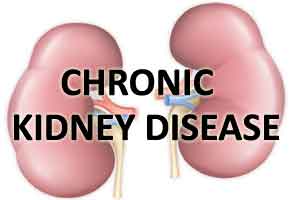 Hong Kong, China: Aliskiren addition to losartan provides no further renoprotective benefit instead it increases the risk of hyperkalemia in non-diabetic chronic kidney disease (CKD) patients, compared with the use of losartan alone, suggests a recent study.
Chronic kidney disease, also called chronic kidney failure, is a condition characterized by gradual loss of kidney function. In the early stages of chronic kidney disease, a few signs or symptoms may be evident. CKD may not become apparent until the kidney function is significantly impaired.
The findings of the study were presented by Sydney C.W. Tang, MD, of the University of Hong Kong, at the American Society of Nephrology's Kidney Week 2019 meeting. The study was conducted to determine the potential long-term safety and efficacy of aliskiren in non-diabetic CKD.
For the study, non-diabetic stage 3-4 patients (n=76) were randomized to receive aliskiren added on to losartan (maximally tolerated dose) or losartan alone.
The primary outcome was the slope of eGFR (estimated glomerular filtration rate) at 3 years, along with other secondary endpoints. Composite renal outcomes of doubling of baseline serum creatinine (sCr) or a 40% reduction in eGFR or incident end-stage renal disease (ESRD) or death was analyzed as post-hoc analysis.
Read Also: Chronic kidney disease linked to 95% increased risk of heart attack, finds Mayo Clinic study
Key findings of the study include:


After a follow-up of 144 weeks in 76 subjects, there was no difference in the slope of eGFR.


6 patients receiving aliskiren and 7 control patients reached the renal composite endpoint (16.2% vs. 17.9%).


Cardiovascular events rate was 10.8% vs. 2.6%.


The hyperkalemia rate was 18.9% vs. 5.1%.


Read Also: Coffee reduces death risk in chronic kidney disease patients
"Compared to losartan alone, add-on aliskiren conferred no further renoprotective benefit but increased hyperkalemia risks in non-diabetic CKD patients," concluded the authors.
Source : Kidney Week 2019 meeting