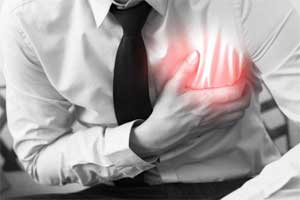 Alirocumab, a cholesterol-lowering drug, was found to reduce the chance of additional heart problems or stroke among patients who had suffered a recent heart attack or threatened heart attack, according to a new study published in the New England Journal of Medicine.
Major findings of the study are-
Alirocumab significantly reduced major adverse cardiovascular events by 15 %.
Alirocumab was associated with a 15% lower risk of death from any cause.
The drug was approved by the Food and Drug Administration in 2015 as a treatment for high cholesterol, but it has only now been shown to also reduce the risk of heart disease events and stroke.
Gregory G. Schwartz, professor of medicine at the University of Colorado School of Medicine, and colleagues conducted the study to determine whether alirocumab, a human monoclonal antibody to proprotein convertase subtilisin–kexin type 9 (PCSK9), would improve cardiovascular outcomes after an acute coronary syndrome (ACS) in patients receiving high-intensity statin therapy.
"It works by increasing receptors on the liver that attract particles of LDL cholesterol from the blood and break them down. The result is that blood levels of LDL or 'bad' cholesterol decrease by approximately 50 percent, even when patients are already taking a statin," explained Schwartz.
This double-blind, placebo-controlled trial involved 18,924 patients from 57 countries aged at least 40-years-old who had an ACS  1 to 12 months earlier, had levels of LDL cholesterol of at least 70 mg per deciliter despite taking high doses of statins.  Patients were randomly assigned to receive alirocumab subcutaneously at a dose of 75 mg (9462 patients) or matching placebo (9462 patients) every 2 weeks.
The primary endpoint was a composite of death from coronary heart disease, nonfatal myocardial infarction, fatal or nonfatal ischemic stroke, or unstable angina requiring hospitalization.
Key Findings:

A composite primary end-point event occurred in 903 patients (9.5%) in the alirocumab group and in 1052 patients (11.1%) in the placebo group.
A total of 334 patients (3.5%) in the alirocumab group and 392 patients (4.1%) in the placebo group died.
The absolute benefit of alirocumab with respect to the composite primary endpoint was greater among patients who had a baseline LDL cholesterol level of 100 mg or more per deciliter than among patients who had a lower baseline level.
The incidence of adverse events was similar in the two groups, with the exception of local injection-site reactions (3.8% in the alirocumab group vs. 2.1% in the placebo group).
"Statins have been the main cholesterol-lowering drugs for heart patients for more than 30 years, and they are very effective," Schwartz said. "Now we know that we can improve the outcomes after a heart attack by adding alirocumab to statins in selected patients."
"Our results demonstrate that among patients who had a previous acute coronary syndrome and who were receiving high-intensity statin therapy, the risk of recurrent ischemic cardiovascular events was lower among those who received alirocumab than among those who received placebo," concluded the authors.
For further reference follow the link: 10.1056/NEJMoa1801174