Alcohol consumption uniformly increases high BP and stroke risk: Lancet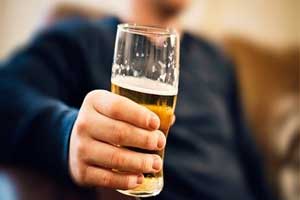 CHINA: Alcohol consumption increased the risk of high blood pressure (BP) and stroke uniformly and seemed to have a little net effect on myocardial infarction (heart attack) risk in a recent Lancet study.
Genetic epidemiology revealed that the seemingly protective effects of moderate intake of alcohol against stroke may be largely non-causal and complicated by self-reported intake. Overall, alcohol consumption increased the risk of blood pressure(BP) and stroke uniformly and seemed to have a little net effect on myocardial infarction risk in this study.
Findings of the study, published in the journal The Lancet, are based on the genetic data and are in contrast to the findings that used conventional epidemiology.
In previous studies, moderate drinking has been associated with reduced risk of cardiovascular diseases, in comparison to heavier drinking or abstinence (no drinking). Studies in East Asia can help determine whether these associations are causal since two common genetic variants greatly affect alcohol drinking patterns. Zhengming Chen, Nuffield Department of Population Health, University of Oxford, Oxford, UK, and colleagues used these two variants to assess the relationships between cardiovascular risk and genotype-predicted mean alcohol intake in men, contrasting the findings in men with those in women (few of whom drink).
The study analyzed China Kadoorie Biobank data on 512,715 adults from 10 areas of China who were enrolled between June 2004 and July 2008 and were followed for approximately 10 years (until 2017). Only 161,498 of the total participants were genotyped for the 2 common variants that alter the metabolism of alcohol in the east Asian population.
Also Read: Moderate drinking lowers risk of prostate cancer in men
Key findings of the study include:


Only 2% of women (6245/302,510) reported drinking alcohol (primarily spirits) most weeks, compared with 33% of men (69,897/210,205).


Among men, conventional epidemiology showed that self-reported alcohol intake had U-shaped associations with the incidence of ischaemic stroke (n=14 930), intracerebral haemorrhage (n=3496), and acute myocardial infarction (n=2958); men who reported drinking about 100 g of alcohol per week (one to two drinks per day) had lower risks of all three diseases than non-drinkers or heavier drinkers.


In contrast, although genotype-predicted mean male alcohol intake varied widely (from 4 to 256 g per week—ie, near zero to about four drinks per day), it did not have any U-shaped associations with risk.


For stroke, genotype-predicted mean alcohol intake had a continuously positive log-linear association with risk, which was stronger for intracerebral hemorrhage than for ischaemic stroke.


For myocardial infarction, genotype-predicted mean alcohol intake was not significantly associated with risk.


Usual alcohol intake in current drinkers and genotype-predicted alcohol intake in all men had similarly strong positive associations with systolic blood pressure.


Among women, few drank and the studied genotypes did not predict high mean alcohol intake and were not positively associated with blood pressure, stroke, or myocardial infarction.


Also Read: Moderate Drinking has survival benefit in Heart Failure : JAMA
"The genetic epidemiological analyses in this large study do not support the apparently protective effects against the stroke of moderate drinking when compared with no drinking that is suggested by conventional epidemiological analyses," the study researchers concluded.
For detailed study follow the link:
https://doi.org/10.1016/S0140-6736(18)31772-0
Source : With inputs from The Lancet