Airport metal detectors safe for Heart patients with pacemakers, finds a study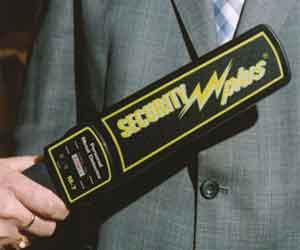 Results from new research show that passengers with cardiac implantable electronic devices (CIEDs), such as pacemakers or defibrillators, can safely travel through airport security checkpoints. This is the first study to look at the relationship between body scanners and the impact on functionality of devices. The results are scheduled to be presented on Friday, May 10 at Heart Rhythm 2019, the Heart Rhythm Society's 40th Annual Scientific Sessions and show no negative interference after analyzing more than 1,000 scans.
Electromagnetic interference (EMI) can pose a danger to patients with pacemakers and implantable cardioverter-defibrillators (ICDs). EMI is a disturbance known to cause pacing inhibition or arrhythmia. Patients are advised to manage this potential risk by limiting their exposure to certain technologies including metal detectors, magnets, MRI scans, and other medical procedures.
More than 3 million people across the world have pacemakers, a common CIED, as a treatment for abnormal heart rhythms. Body scanners are increasingly being used worldwide and are replacing conventional metal detectors. These scanners represent a potential new source of electromagnetic interference (EMI).
Prior to conducting the study, the authors surveyed more than 1,000 patients and found that 80 percent have fears or concerns about passing through body scanners at the airport. The survey information further reinforces the need to clarify the safety of airport security body scans for passengers with CIEDs.
The study included 375 patients enrolled between May 2017 and October 2018. The devices studied included implantable cardioverter defibrillators (ICD), conventional pacemakers, subcutaneous ICD, and leadless pacemakers (LCP). The sensitivity levels of the devices were not altered, ICDshock therapy was disabled and permanent ventricular pacing were ensured to facilitate the detection of EMI. The primary endpoint was EMI events including pacing inhibition, upper rate tracking, tachycardia detection, and spontaneous reprogramming. The secondary endpoint was the incidence of CIED detection by the body scanner.
Results from more than 1,000 body scans reported no interference with patient devices. There were no events of EMI during the body scans across 375 devices. Further, no CIEDs were detected by the body scanners (EMI-prevalence 0 percent [95 percent CI; 0 percent 1.0 percent]).
"We were surprised to learn that so many patients expressed concerns about the functionality of their devices while travelling. We wanted to help put their minds at ease by testing the potential interference body scanners could have on common devices like pacemakers and defibrillators," said lead author, Carsten Lennerz, MD, MSci, German Heart Centre Munich. "Our study results show that now patients can travel worry-free knowing they can safely go through security checkpoints without the need of disclosing personal medical information."
The authors place importance on studies with larger patient populations and different types of body scanners. In addition, the studied the possible interference between devices and electric cars. "Do Electric Cars Impact Pacemakers and Defibrillators?" is also being presented at the meeting.