Air pollution can increase fracture risk: JAMA Study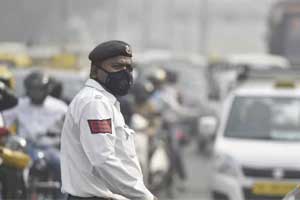 Ambient air pollution is associated with poorer bone health.
Delhi: Air pollution is a persistent health concern in many low- and middle-income countries like India which results in increasing disease burden responsible for a large proportion of morbidity and premature mortality. Its already known to have varied health impacts including lung cancer, stroke, and respiratory diseases. Now, a recent study in the journal JAMA Network Open has found ambient air pollution to be associated with lower bone mineral content (BMC) in a young adult population in a peri-urban area of South India.
Osteoporosis is one of the most commonly occurring metabolic bone disorders. It is characterized by decreased bone mineral density (BMD) in which bones become weak and brittle. This increases bone fragility making it susceptible to fracture. The disorder predominantly affects older adults, and, globally, an estimated 200 million people have osteoporosis and is expected to increase in prevalence because of population aging.
A large body of literature links ambient particulate matter air pollution (OM) with a wide range of noncommunicable diseases. However, there are only few studies that have evaluated the association between PM and skeletal health. Otavio T. Ranzani, CIBER Epidemiología y Salud Pública, Barcelona, Spain, and colleagues aimed to quantify the association between ambient and household air pollution and bone mass in a sample of the general population in peri-urban India.
The study performed by the CHAI Project, led by ISGlobal involved over 3,700 people from 28 villages outside the city of Hyderabad, in southern India.
The authors used a locally-developed model to estimate outdoor exposure at residence to air pollution by fine particulate matter (suspended particles with a diameter of 2.5 µm m or less) and black carbon. The participants also filled a questionnaire on the type of fuel used for cooking. The authors linked this information with bone health assessed using a special type of radiography that measures bone density, called dual-energy x-ray absorptiometry and measured bone mass at the lumbar spine and the left hip.
The primary outcome was bone mineral content (BMC) measured in grams, corrected by bone area at the lumbar spine and left hip, as measured by dual-energy x-ray absorptiometry. The secondary outcome was bone mineral density measured in grams per centimeters squared.
Read Also: Air pollution control linked to fast and dramatic drop in IHD, stroke and COPD
Key findings of the study include:


The annual mean (SD) PM2.5 exposure was 32.8 (2.5) μg/m3, and the annual mean (SD) BC (black carbon) exposure was 2.5 (0.2) μg/m3; 57.8% of participants used biomass cooking fuels.


In fully adjusted models, PM2.5 was associated with lower BMC in the spine and hip.


After confounder adjustment, exposure to PM2.5 was also associated with lower bone mineral density in the spine and hip.


Exposure to BC was associated with lower BMC in the spine and hip, although the confidence intervals were wider.


There was no association between biomass fuel use and spine BMC.


Read Also: Air pollution linked to higher risk of depression and suicide
"Our findings add to a growing body of evidence that indicates that particulate air pollution is relevant for bone health across a wide range of air pollution levels, including levels found in high income and low-and medium-income countries," says Cathryn Tonne, coordinator of the study and the CHAI project.
"In a young adult population in a peri-urban area of South India, we observed an association between ambient PM2.5 and BC and low bone mass. The association between the use of biomass fuels as the main source of cooking fuel and low bone mass was not clear," wrote the authors.
"Further studies in areas with high levels of air pollution from outdoor and household sources, investigating bone mass but also the incidence of osteoporotic fractures, are needed to better quantify the current and future burden of air pollution on bone health," they concluded.
The study, "Association of Ambient and Household Air Pollution With Bone Mineral Content Among Adults in Peri-urban South India," is published in JAMA Network Open.
DOI: 10.1001/jamanetworkopen.2019.18504
Source : JAMA Network Open