AIIMS performs 50th heart transplant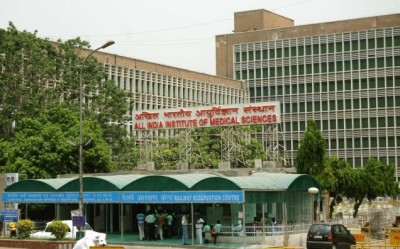 New Delhi : Its a double joy for Haryana as a man from Rohtak received a new lease of life this Diwali after undergoing a heart transplant at AIIMS, taking to 50 the number of such surgeries performed at the premier institute since the first transplant.
The 42-year-old man, who was operated a day before Diwali, received the heart of a 35-year-old woman from the Trauma Centre of the institute, where she had died after suffering a road accident.
"Its been a productive year and with this surgery, now the number of transplants this year has reached to 13, which is a record for any year, since the first transplant. And, two months are still to go, so we hope the number would increase from here on, all the way to 2017," AIIMS Director M C Misra told reporters.
He was addressing a press conference at the institutes campus to mark the 50th heart transplant conducted by AIIMS.
"We performed the transplant a day before Diwali festival and next day we told the man, who used to be DTC driver, that this was his Diwali gift from AIIMS," professor of cardiology at AIIMS, Dr Sandeep Seth, said.
Incidentally, Haryana completed 50 years of its existence and huge celebrations marked the states golden jubilee anniversary.
"The donor was younger than the recipient, but the deceased woman weighed 50 kgs and the Rohtak man was 55 kgs in weight, so that compensated. Also, his blood group was AB+, so luckily the group also matched. We are delighted that our 50th transplant was done on the occasion of Diwali," says Balram Airan, Professor of Cardiothoracic and Vascular Surgery at AIIMS.
Airan was part of the team at the premier institute which performed the countrys first heart transplant at AIIMS on August 3, 1994.
"About 350 heart transplants have been performed in the country, but very little in the public sector. About 2-3 at Armys Research & Referral Hospital here, 2-3 at Nizams Institute of Medical Sciences in Hyderabad, 1-2 at PGIMER (Postgraduate Institute of Medical Education and Research).
"Maximum transplants have taken place in private hospitals in Chennai, and some in Escorts, Max and Medanta hospitals," he said.
On October 4, doctors at AIIMS had performed the 48th heart transplant in a 45-year-old cardiac patient from south Delhi after harvesting it from a young traffic accident victim in Indore.
"So, far we have had four donors from Indore, and one each from Pune, Chandigarh and Jaipur. The coordination among local administration, and air and road traffic agencies on both worked smoothly to achieve this milestone," Misra said.
According to AIIMS, nearly 50,000 people are in immediate need of heart transplants in the country.
Seth says the survival rate in heart transplant cases is maximum of 17 years or so of life after the surgery.
Source : PTI