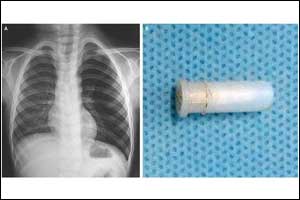 Dr.Suresh C. Sharma, at AIIMS Delhi, India and associates have reported an unusual case of Whistling Cough that has appeared in NEJM. (A video of the boy's cough can be found at that link.)
According to case history, a  4-year-old boy presented to the ENT outpatient clinic with a 2-day history of a persistent cough that had an intermittent whistling character. He had no history or symptoms of viral infection of the upper respiratory tract, and he otherwise felt well. His parents said that he had been playing with a whistle before the onset of his coughing.
Credit: NEJM
On physical examination, an expiratory wheeze was found in the middle and lower left lung. However, the remainder of the physical examination was unremarkable. His Chest radiography revealed hyperinflation of the left lung. Such hyperinflation can be caused by something blocking the air passages to the lungs, or by certain medical conditions, such as asthma and cystic fibrosis. Although a foreign body could not be definitively identified, air trapping in expiratory radiographs did suggest the presence of an aspirated foreign body in the bronchus, since air can enter the bronchus around the foreign body but cannot exit.
The doctors performed a rigid bronchoscopy to rule out the likelihood that a foreign body had lodged in the lung. A toy whistle, which had been obstructing the left segmental bronchus, was retrieved. If it had been another foreign object lodged in his lungs, it would have caused noisy breathing or wheezing, but not a whistling sound said report co-author Dr Pirabu Sakthivel, a senior resident of head and neck surgery and oncology at the All India Institute of Medical Sciences in New Delhi."Foreign bodies in the airways are common," Sakthivel told Live Science. But the "whistling nature of a cough is exceptionally rare."
A repeat chest radiograph obtained the day after retrieval of the foreign body, showed resolution of the hyperinflation. The child remained well at a 1-year follow-up visit. The doctors found that the boy's health was good and his lungs were no longer whistling.
For more details click on the link: DOI: 10.1056/NEJMicm1716704