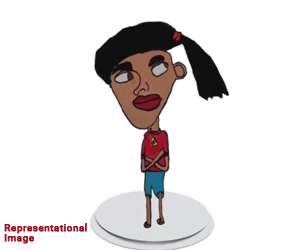 Dr Nitish Agarwal, at All India Institute of Medical Sciences, New Delhi, India and colleagues have reported a case of Bobblehead-Doll Syndrome. The case has appeared in NEJM.
Bobblehead syndrome (BHDS) is a complex and rare syndrome with repetitive anteroposterior head movements. These movements are absent during sleep and transiently disappear or attenuate on volitional activities, often accompanied with truncal tremors. These movements are very sensitive to sensory stimuli. It is usually associated with expansile lesions in the third ventricular region. Bobblehead doll syndrome (BHDS) was first described by Benton et al. in the year 1966. BHDS is a rare clinical entity usually associated with an expansion in the area of the third ventricle.
A 5-year-old girl presented to the pediatric neurosurgery clinic with a 2-year history of excessive head nodding. On examination, she was alert, with normal cognitive function. She displayed continuous, rhythmic, anteroposterior head-bobbing movements at a frequency of 2 to 3 Hz. The movements diminished in intensity when she engaged in a volitional activity, such as talking.
Magnetic resonance imaging of the head showed a well-defined, thin-walled, suprasellar cystic lesion. The lesion caused obstruction at the foramina of Monro or at the third ventricle, with resulting ventriculomegaly. A diagnosis of a suprasellar arachnoid cyst with bobblehead-doll syndrome was made. This is a rare pediatric movement disorder characterized by continuous or episodic involuntary head nodding at a frequency of 2 to 3 Hz.
The movements stop during sleep and may disappear or attenuate with volitional activity. The syndrome is associated with cystic abnormalities in the region of the anterior third ventricle. The patient underwent endoscopic cystoventriculostomy and cystocisternostomy for the suprasellar arachnoid cyst. At follow-up 6 weeks after the procedure, she had partial resolution of her symptoms, with a reduction in both the frequency and intensity of head movements.
For more details click on the link: DOI: 10.1056/NEJMicm1808747