AIIMS Doctors report a case of Gravid Uterus in an Incisional Hernia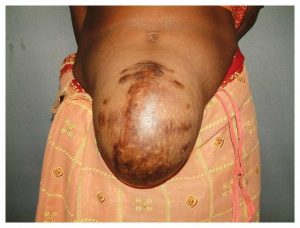 Dr.Charu Chanana and colleagues of All India Institute of Medical Sciences, India have reported a case of Gravid Uterus in an Incisional Hernia that has appeared in NEJM.
Hernia of a gravid uterus through an incision in the anterior abdominal wall is very rare. The risk to both maternal and fetal health is high in such cases and the complications documented in the literature include preterm labour, intrauterine growth restriction, uterine rupture, spontaneous abortion, strangulation and abdominal wall ulceration. The management with a successful outcome can be achieved in such cases by good antenatal care, planning and joint care with surgeons.
According to the history of the case a 32-year-old healthy woman, gravida 6 with two living children, reported to the hospital for the termination of pregnancy at 18 weeks of gestation. She had reportedly had two cesarean sections in the past.

The doctors conducted a physical examination and found a gravid uterus; the rectus sheath was deficient in the midline infra umbilical area, a finding consistent with an incisional hernia. She apparently had this defect since her last cesarean section 2 years earlier.

The doctors performed a medical termination of the pregnancy using a 0.1% solution of ethacridine lactate, which was instilled extra amniotically through a Foley catheter. The termination was uneventful, and the patient was discharged in good condition.The patient was subjected to an incisional hernia repair which turned out to be successful.
Herniation of gravid uterus is a rare phenomenon because of the fact that by the time the uterus reaches the level of hernial aperture, it is usually too large to enter the hernial sac. Herniation of gravid uterus has been reported sporadically as an incisional hernia and umbilical hernia of pregnancy in the literature.
For more details click on the link:
DOI: 10.1056/NEJMicm062163
Source : N Engl J Med