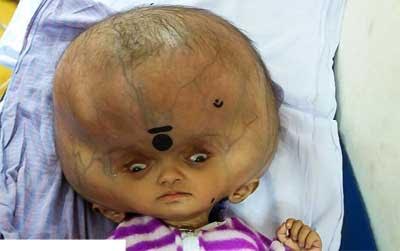 Bhubaneswar: A seven month old baby, Mrityunjay, known to have world's largest head, was recently operated successfully at All India Institute of Medical sciences (AIIMS), Bhuwaneshwar for reducing his head size by around 30 cm.
The baby was suffering from hydrocephalus, a condition in which extra fluid puts pressure on the brain and can cause brain damage. It's most common in infants and older adults. Hydrocephalus is characterised by head enlargement in infants. Adults and older children experience headache, impaired vision, cognitive difficulties, loss of coordination and incontinence.
Mrityunjay, hailing from Raipur (Chhattisgarh), is reported to have had a skull size of 96 cm , and due to his abnormal skull size was shunned by people who termed him 'ghost baby'. AIIMS doctors have now removed 3.7 liters of fluid from his head reducing the skill size by around 30 cm.
Speaking with media, Dr Dilip Parida, superintendent of the AIIMS hospital at Bhuwaneshwar, said: 'The child was admitted on November 20 with the head containing almost 5.5 liters of fluid. We have removed 3.7 liters of fluid so far by external ventricular drainage."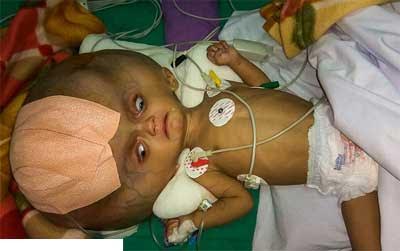 'Now, the circumference of the head has come down from 96 cm to 70 cm. The cognitive functions of the child have improved a lot, he is stable and has responded well to the treatment" added the doctors.
The treatment, which would usually have cost about £6,000, was provided free of charge thanks to the All India Institute of Medical Sciences (AIIMS),  where the state provides free treatment to patients.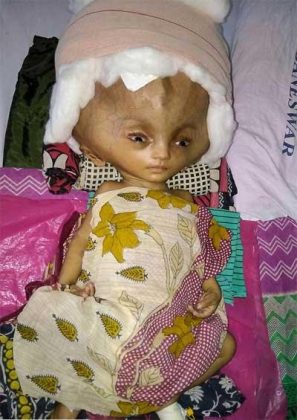 Kamalesh Das and Kavita, parents of the child, relieved with the operation, told DailyMail UK that their family had been avoided by the local community as their son had abnormal skull/head size.  'People would call our baby a 'ghost' because of his unusual appearance, his father said
"As his head reduces to a normal size, the attitude of our neighbours and villagers will change. They will stop calling him derogatory names like 'barka matha' (giant head) or 'ghost baby', he added "Now, I am sure that he will be able to lead a normal life. It wouldn't have been possible without the help of the doctors"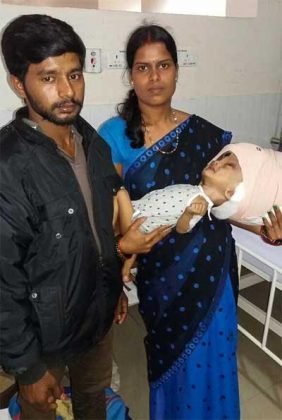 The following two tabs change content below.
savita thakur
Studied at Indraprastha College for Women (Delhi University), completed in 2014. Currently working with Medical Dialogues, a online Medical news paper dedicated for healthcare Professionals.
Latest posts by savita thakur (see all)