Addition of calcium, magnesium to drinking water could lower BP: JAHA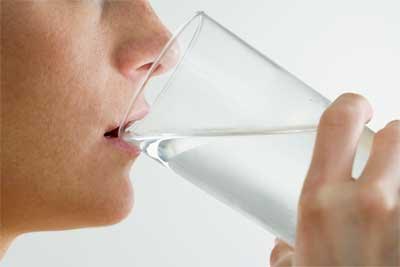 DELHI: Unmanaged high blood pressure can lead to stroke and heart disease, therefore it is important to keep your BP in check.
A new study has suggested a simple and easy way to lower your BP -- by drinking mild‐salinity water!
The study, published in the journal Journal of the American Heart Association, has found that drinking mild‐salinity water containing optimal concentrations of calcium and magnesium could lower the blood pressure(BP).
Sodium (Na+) in saline water may increase BP, but potassium (K+), calcium (Ca2+), and magnesium (Mg2+) may lower BP. Abu Mohd Naser, Department of Global Health, Rollins School of Public Health, Emory University, Atlanta, GA, and colleagues conducted compared blood pressure levels among people who drank salinated water with those who drank freshwater.
"Calcium and magnesium are protective; they decrease blood pressure," said Mohammed Naser. "What we suspect is happening is that they outweigh the harmful effects of sodium on blood pressure."
The strategy stems from research that looked at the impact of drinking water sources on the health of people in an area of coastal Bangladesh affected by seawater intrusion. The residents relied upon pond water or groundwater as their main water source.
For the purpose, they pooled 6487 BP measurements from 2 cohorts in coastal Bangladesh. Multilevel linear models were used to estimate BP differences across water salinity categories: fresh water (electrical conductivity, <0.7 mS/cm), mild salinity (electrical conductivity ≥0.7 and <2 mS/cm), and moderate salinity (electrical conductivity ≥2 and <10 mS/cm).
Also Read: Have high BP- Can you reduce salt while keeping the salty taste?
They found that:


Compared with fresh water drinkers, mild‐salinity water drinkers had lower mean systolic BP (−1.55 mm Hg) and lower mean diastolic BP (−1.26 mm Hg), adjusted models. Systolic is the top number in the blood pressure measurement and diastolic is the bottom number.


Mild‐salinity water drinkers had high urinary Ca2+, and Mg2+, and both urinary Ca2+ and Mg2+ were associated with lower BP.


The adjusted odds ratio among mild‐salinity water drinkers for stage 1 hypertension was 0.60 and for stage 2 hypertension was 0.56.


Also Read: Long term lead exposure linked to uncontrolled high blood pressure
"Blood pressure lowering effects of calcium and magnesium overweighed the blood pressure increasing effects of sodium, reflecting an overall inverse association between drinking water salinity, and blood pressure," write the authors.
Adding these minerals to drinking water could be an effective way of counteracting some of that, Naser said. And water also could make a better delivery system for some minerals than food because "chemicals in the food can interfere with absorption. Bioavailability is low. If you can supplement or add calcium and magnesium to water, there is a high chance that they will be absorbed better."
"High sodium or low calcium or magnesium content in patients' drinking water can increase their blood pressure and risks for hypertension," concluded the authors, adding that, "High sodium or low calcium or magnesium content in patients' drinking water can increase their blood pressure and risks for hypertension."
For detailed study log on to https://doi.org/10.1161/JAHA.119.012007
Source : With inputs from Journal of the American Heart Association