Addition of budesonide to saline solution beneficial in rhinosinusitis : JAMA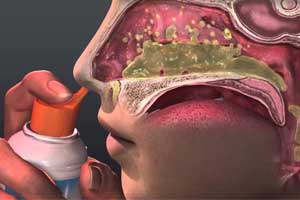 Adding budesonide to a saline nasal lavage provides clinically meaningful benefits which are more than those provided by the saline alone to the patients with chronic rhinosinusitis (CRS), according to a new study published in the journal JAMA Otolaryngology-Head & Neck Surgery.
Sarah Tait, Washington University School of Medicine in St Louis, St Louis, Missouri, and colleagues conducted the study to evaluate the incremental effect of adding budesonide to large-volume, low-pressure saline sinus irrigation for the treatment of CRS.
CRS is a common condition characterized by inflammation and swelling of the cavities around nasal passages (sinuses), for at least 12 weeks. This condition causes mucus buildup and interferes with drainage.
Read Also: Saline irrigation reduces disease severity in allergic rhinitis
The researchers performed a double-blind, placebo-controlled randomized trial. 80 patients were enrolled in the study, 61 of them completed all the analyses. Of the 61 participants, 29 were randomized to budesonide treatment, and 32 to saline alone. A sinus rinse kit consisting of saline and capsules containing either budesonide (treatment group) or lactose (control group) was provided to the participants.
Key Findings:


The budesonide group had a mean score on the Sino-Nasal Outcome Test (SNOT-22) that was 7 points better (95% confidence interval, −2 to 16) than the control group, with 79% in the budesonide group experiencing a clinically meaningful reduction in their SNOT-22 scores vs 59% in the control group, for a difference of 20% (95% confidence interval, −2.5 to 42.5%).


The average change in endoscopic scores was 3.4 points for the budesonide group and 2.7 points for the control group.


There were no related adverse events.


"This study shows that budesonide in saline nasal lavage results in clinically meaningful benefits beyond the benefits of saline alone for patients with CRS. Given the imprecision in the treatment effect, further research is warranted to define the true effect of budesonide in saline nasal lavage," concluded the authors.
For more information log on to
10.1001/jamaoto.2018.0667