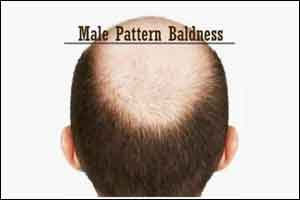 A topical solution of 0.25% finasteride admixed with 3% minoxidil is significantly superior and well tolerated to 3% minoxidil solution for promoting hair growth in male androgenetic alopecia (pattern baldness), finds a new study published in the Journal of the European Academy of Dermatology and Venereology.
The synergism of combined use between oral finasteride and topical minoxidil has been established in treating androgenetic alopecia among men. However, the concern regarding adverse effects of finasteride use has been rising.
Male pattern hair loss or male androgenic alopecia is the most common cause of balding in men. The pathogenesis involves androgen, and in particular, dihydrotestosterone, binding to androgen receptors in the dermal papilla of sensitive hair follicles. In male pattern baldness, hair loss typically occurs on the top and front of the head.
Also Read: Male-pattern baldness and premature graying associated with risk of early heart disease
Poonkiat Suchonwanit, Division of Dermatology, Faculty of Medicine, Ramathibodi Hospital, Mahidol University, Bangkok, Thailand, and colleagues conducted the study to compare the efficacy and safety of a topical solution of 0.25% finasteride admixed with 3% minoxidil vs. 3% minoxidil solution in men with androgenetic alopecia.
For the study, forty men aged 18-60 years with androgenetic alopecia were randomized to 24 weeks of treatment with a finasteride/minoxidil or minoxidil solution twice daily. Primary efficacy endpoint was the change from baseline in hair density and hair diameter at week 24. Secondary endpoints included global photographic assessment by treatment-blinded investigators and subjects. Changes in plasma dihydrotestosterone levels and adverse events were recorded.
Key Findings:
At week 24, the combined solution of finasteride and minoxidil was significantly superior to minoxidil alone in improvements of hair density, hair diameter, and global photographic assessment.
About 90% of patients treated with the combined solution experienced moderate to marked improvement.
The combined solution also had minimal effect on plasma dihydrotestosterone levels, approximately 5% reduction.
There were also no systemic adverse events reported by patients in both groups.
For more information log on to https://doi.org/10.1111/jdv.15171