Bempedoic acid enhances LDL-C lowering effect of statins in high risk patients: JAMA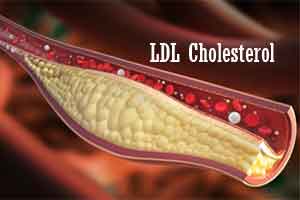 USA: The addition of bempedoic acid to high-intensity statin therapy in patients at increased risk of cardiovascular disease (CVD) helped in a significant lowering of LDL-C (low-density lipoprotein cholesterol) level over 12 weeks compared to placebo, a recent study in the JAMA journal has found.
The 2018 guidelines on the management of blood cholesterol recommend providing high-intensity or maximally tolerated statin therapy to patients with clinical atherosclerotic cardiovascular disease (ASCVD), to lower their cholesterol levels and reduce CVD risk. The primary goal is of achieving a 50% or greater reduction in LDL-C levels. For patients who are at very high cardiovascular risk or have heterozygous familial hypercholesterolemia, statin therapy alone is insufficient. In such patients, the guideline recommends the addition of non-statin agents. Many patients at high cardiovascular risk due to ASCVD, heterozygous familial hypercholesterolemia, or both still do not achieve appropriate LDL-C levels despite treatment with available lipid-lowering therapies.
Bempedoic acid (Esperion Therapeutics Inc) is an oral, once-daily, first-in-class drug being developed for the treatment of hyperlipidemia. It is a prodrug activated in the liver to bempedoyl-CoA, which subsequently inhibits ATP-citrate lyase, an enzyme upstream of 3-hydroxy-3-methylglutaryl-CoA reductase, the target of statins, in the cholesterol biosynthesis pathway.
Anne C. Goldberg, Washington University School of Medicine, St. Louis, Missouri, and colleagues assessed the efficacy of bempedoic acid vs placebo in patients at high cardiovascular risk receiving maximally tolerated lipid-lowering therapy.
The phase 3, randomized, double-blind, placebo-controlled clinical trial was conducted at 91 clinical sites in North America and Europe from November 2016 to September 2018. A total of 779 patients with atherosclerotic cardiovascular disease, heterozygous familial hypercholesterolemia, or both were included. They had LDL-C level 70 mg/dL (1.8 mmol/L) or greater while receiving maximally tolerated lipid-lowering therapy. They were randomized in the ratio 2:1 to receive either bempedoic acid (180 mg) (n = 522) or placebo (n = 257) once daily for 52 weeks.
The primary endpoint was per cent change from baseline in the LDL-C level at week 12. Secondary measures included changes in levels of lipids, lipoproteins, and biomarkers.
Read Also: Bempedoic Acid / Ezetimibe Combo significantly lowers LDL-C and hsCRP, finds clinical trial
Key findings of the study include:


Among 779 randomized patients (mean age, 64.3 years; 283 women [36.3%]), 740 (95.0%) completed the trial.


At baseline, the mean LDL-C level was 120.4 (SD, 37.9) mg/dL.


Bempedoic acid lowered LDL-C levels significantly more than placebo at week 12 (–15.1% vs 2.4%, respectively; difference, –17.4%).


Significant reductions with bempedoic acid vs placebo were observed at week 12 for non–high-density lipoprotein cholesterol (–10.8% vs 2.3%; difference, –13.0%), total cholesterol (–9.9% vs 1.3%; difference, –11.2%), apolipoprotein B (–9.3% vs 3.7%; difference, –13.0%), and high-sensitivity C-reactive protein (median, –18.7% vs –9.4%; difference, –8.7%).


Common adverse events included nasopharyngitis (5.2% vs 5.1% with bempedoic acid and placebo, respectively), urinary tract infection (5.0% vs 1.9%), and hyperuricemia (4.2% vs 1.9%).


Read Also: New Drug to Control High Cholesterol for Statin intolerant patients: NEJM Study"
Further research is needed to assess the durability and clinical effect as well as long-term safety," concluded the authors.
The study "Effect of Bempedoic Acid vs Placebo Added to Maximally Tolerated Statins on Low-Density Lipoprotein Cholesterol in Patients at High Risk for Cardiovascular Disease - The CLEAR Wisdom Randomized Clinical Trial" is published in the JAMA journal.
DOI:
10.1001/jama.2019.16585
Journal Information:
JAMA
Source : JAMA