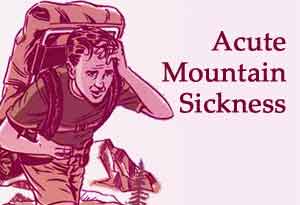 An article published online in JAMA says that acute mountain sickness is the most common type of high altitude illness. Dr.Jill Jin, MD, MPH in the article titled Acute Mountain Sickness has outlined in short all the aspects pertaining to the disease.
On an average, more than 25%of people travelling to above 3500 m (11 667 ft) and more than one-half of people traveling to above 6000 m (20 000 ft) suffer from this illness.
It is a clinical diagnosis based on typical symptoms based on the history of traveling to high altitudes but it can be more difficult to diagnose in children and people with baseline health problems.
Symptoms of acute mountain sickness
Headache fatigue poor appetite nausea vomiting lightheadedness and sleep disturbances that develop six to 12 hours after ascent.
The symptoms may range from mild to severe.Symptoms usually improve after 1 to 2 days if there is no further ascent, but they can sometimes last longer.
In less than 1% of cases, symptoms can progress to high-altitude cerebral edema, a life-threatening condition marked by symptoms of wobbly gait, confusion, and decreased consciousness.
Diagnosis
Acute mountain sickness is a clinical diagnosis based on typical symptoms in the context of ascending to high altitudes.
Physical examination is usually normal.
No blood work or imaging tests are necessary, except to rule out other diagnoses.
Symptoms usually improve after treatment with supplemental oxygen; sometimes this can be used as a diagnostic "test" for acute mountain sickness.
Several questionnaire-based diagnostic tools can be used to diagnose acute mountain sickness. Examples include the Acute Mountain Sickness–Cerebral (AMS-C) score, the Hackett score, the Lake Louise Questionnaire Score (LLQS), and the Clinical Functional Score (CFS).
Treatment 
Hold off on ascending to higher altitudes until their symptoms have resolved.
Mild cases are usually treated with supportive care including rest, pain medications for headache, and hydration.
More severe cases can be treated with oxygen given through a nasal cannula as well as with prescription medications such as acetazolamide, dexamethasone, or both.
If symptoms are severe or persistent, descent is recommended.
Prevention
Prevention tactics for acute mountain sickness include regular exposure to altitude (preacclimatization) and a gradual (slow) ascent, especially when it comes to sleeping altitude (aim for less than 400 m [1333 ft] difference between each night).
Drink plenty of water and avoid alcohol.
People with a history of acute mountain sickness should be especially careful and can take acetazolamide before ascent to prevent or decrease symptoms.
People with heart disease, lung disease, anemia, or obstructive sleep apnea should talk to their doctors before traveling to high altitudes.
For more details click on the link: