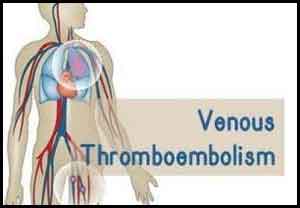 Researchers from the Walter Reed National Military Medical Center conducted a prospective, observational study to assess the impact that weight and renal function have on venous thromboembolism (VTE) rates among in-patients receiving prophylaxis with low-molecular-weight or unfractionated heparin.
Between September 2009 and 2011, 6599 patients were admitted to the hospital for at least two days. The mean age and body mass index (BMI) were 54.6 and 28.5, respectively. Among those who developed VTE, 165 (71.1%) were diagnosed during admission, 27 (11.7%) within 30 days, and 7.2% between 30 and 90 days after admission.
They concluded that a person's body mass index (BMI) was not related to VTE rates, but renal function did have an impact. Creatinine clearance was not associated with VTE rates when unfractionated heparins or low-molecular weight heparins were given, but patients with acute kidney injury had higher VTE rates, even in the presence of prophylaxis.
"Current unfractionated and low-molecular-weight heparin dosing in the presence of acute kidney injury may not be sufficient to prevent VTE," warns lead researcher Dr. Aaron Holley, "future studies need to address the optimal dosing of heparins in these cases."
Further results from this study will be shared at the CHEST Annual Meeting 2017 in Toronto on Tuesday, October 31, 11:30 AM-11:45 AM at the Metro Toronto Convention Centre, Room 606.
Table 2. Summary of Recommendations Regarding Testing for Thrombophilia.*
Recommendation

Do not test at time of VTE event

Do not test while patient is receiving anticoagulant therapy

Do not test if VTE is provoked by strong risk factors Consider testing

Identify goals of testing

Explanation

Test at completion of anticoagulant therapy for provoked VTE; for unprovoked VTE, test after treatment for acute event if cessation of anticoagulant therapy is con­templated and test results might change management strategy

Test when VKA has been stopped for at least 2 wk, DOAC has been stopped for at least 2 days (preferably longer), and UFH or LMWH for antithrombin levels has been stopped for more than 24 hr

Strong risk factors are major trauma, major surgery, immobility, major illness

Consider testing in patients in whom VTE occurs at a young age in association with weak provoking factors or a strong family history of VTE or in patients who have recurrent VTE

Identify goals in order to aid decision making regarding future VTE prophylaxis, to guide testing of family members (especially regarding risk associated with COC or pregnancy in female family members), and to determine cause (especially for severe VTE, fatal VTE in family members, or VTE in an unusual location); test re­sults alone should not be used for decision making regarding duration of anti­coagulant therapy
For more details click on the following link: http://dx.doi.org/10.1016/j.chest.2017.08.1078
The following two tabs change content below.
Anjali Nimesh
Anjali Nimesh Joined Medical Dialogue as Reporter in 2016. she covers all the medical specialty news in different medical categories. She also covers the Medical guidelines, Medical Journals, rare medical surgeries as well as all the updates in medical filed. She is a graduate from Dr. Bhimrao Ambedkar University. She can be contacted at editorial@medicaldialogues.in Contact no. 011-43720751
Latest posts by Anjali Nimesh (see all)