ACP guidelines on Anaemia in patients with heart disease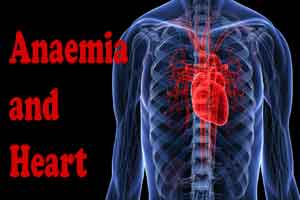 Heart Disease is a commonly prevalent disease among Indians and people all across the globe.
Anemia is more common in patients with heart disease. It is present in approximately one third of patients with congestive heart failure (CHF) and 10% to 20% of patients with coronary heart disease (CHD). The cause of anemia in heart disease is not fully understood. Several factors probably contribute, including iron deficiency, comorbid chronic kidney disease, blunted erythropoietin production, hemodilution, aspirin-induced gastrointestinal blood loss, use of renin–angiotensin–aldosterone system blockers, cytokine-mediated inflammation (anemia of chronic disease), and gut malabsorption with consequent nutritional deficiency.
Anemia can worsen cardiac function and is associated with poor outcomes, including increased risk for hospitalization and death, decreased exercise capacity, and poor quality of life. However, it is not clear whether anemia directly and independently leads to these poor outcomes or whether it reflects more severe underlying illness. Treatments for anemia in patients with heart disease include erythropoiesis-stimulating agents (ESAs), red blood cell (RBC) transfusion, and iron replacement, although it is unclear whether these strategies improve outcomes.
The
American College of Physicians
in their
Journal, 'Annals of Internal Medicine' (2013)
developed a
guideline
to present evidence and provide
clinical recommendation
on treatment of anemia and iron deficiency in adult patients with heart disease. This guideline is based on anemia and iron deficiency from 1947 to July 2012.
Outcomes evaluated for this guideline include mortality; hospitalization; exercise tolerance; quality of life; and cardiovascular events (defined as myocardial infarction, congestive heart failure exacerbation, arrhythmia, or cardiac death) and harms, including hypertension, venous thromboembolic events, and ischemic cerebrovascular events.
The guideline provides two recommendations which run as follows:
Recommendation 1: ACP recommends using a restrictive red blood cell transfusion strategy (trigger hemoglobin threshold of 7 to 8 g/dL compared with higher hemoglobin levels) in hospitalized patients with coronary heart disease. (Grade: weak recommendation; low-quality evidence)Recommendation 2: ACP recommends against the use of erythropoiesis-stimulating agents in patients with mild to moderate anemia and congestive heart failure or coronary heart disease. (Grade: strong recommendation; moderate-quality evidence)
To read the complete article
click on the following link:
Treatment of Anemia in Patients With Heart Disease: A Clinical Practice Guideline From the American College of Physicians