ACP Guidelines on Stage 1 to 3 Chronic Kidney Disease (screening, monitoring, and treatment of adults )
The recent initiative of the Governement of India to develop National Dialysis Programme to address the issue of chronic kidney diseases highlights the .An indication to the growing need to address problems related to Chronic Kidney ailments, 10 % of the Indian population suffers from chronic kidney ailments. Indians are clearly at a higher risk of developing kidney diseases because of the growing numbers suffering from co-morbidities of diabetes and high blood pressure. 60% of the patients suffering from chronic kidney diseases in India are either diabetic or suffer from high blood pressure.
The most commonly accepted definition of CKD was developed by Kidney Disease: Improving Global Outcomes (KDIGO) and the Kidney Disease Outcomes Quality Initiative (KDOQI) as abnormalities of kidney structure or function, present for more than 3 months, with implications for health. Criteria for CKD include markers of kidney damage (albuminuria, as indicated by an albumin excretion rate of 30 mg/24 h or greater and an albumin–creatinine ratio of 3 mg/mmol or greater [≥30 mg/g]); urine sediment abnormalities; electrolyte and other abnormalities due to tubular disorders; abnormalities detected by histologic examination; structural abnormalities detected by imaging; history of kidney transplantation or presence of kidney damage; or kidney dysfunction that persists for 3 or more months, as shown by structural and functional abnormalities.
Traditionally, CKD is categorized into 5 stages that are based on disease severity defined by GFR ; stages 1 to 3 are considered to be early-stage CKD. People with early stages of the disease are typically asymptomatic, and the diagnosis is made by using laboratory tests or imaging. In 2013, KDIGO revised CKD staging to consider both 5 stages of GFR as well as 3 categories of albuminuria to define CKD severity.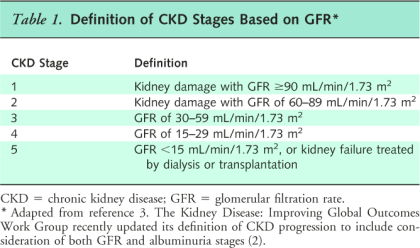 Image Source: Screening, Monitoring, and Treatment of Stage 1 to 3 Chronic Kidney Disease: A Clinical Practice Guideline From the American College of Physicians
In the Annals of Internal medicine (2013), the American College of Physicians (ACP) came out with guidelines to present the evidence and provide clinical recommendations on the screening, monitoring, and treatment of adults with stage 1 to 3 chronic kidney disease.
The clinical outcomes evaluated for this guideline include all-cause mortality, cardiovascular mortality, myocardial infarction, stroke, chronic heart failure, composite vascular outcomes, composite renal outcomes, end-stage renal disease, quality of life, physical function, and activities of daily living.
The ACP guidelines made the following major recommendations:-
Recommendation 1:
ACP recommends against screening for chronic kidney disease in asymptomatic adults without risk factors for chronic kidney disease. (Grade: weak recommendation, low-quality evidence)
Recommendation 2:
ACP recommends against testing for proteinuria in adults with or without diabetes who are currently taking an angiotensin-converting enzyme inhibitor or an angiotensin II–receptor blocker. (Grade: weak recommendation, low-quality evidence)
Recommendation 3:
ACP recommends that clinicians select pharmacologic therapy that includes either an angiotensin-converting enzyme inhibitor (moderate-quality evidence) or an angiotensin II–receptor blocker (high-quality evidence) in patients with hypertension and stage 1 to 3 chronic kidney disease. (Grade: strong recommendation)
Recommendation 4:
ACP recommends that clinicians choose statin therapy to manage elevated low-density lipoprotein in patients with stage 1 to 3 chronic kidney disease. (Grade: strong recommendation, moderate-quality evidence)
To read further click the following link:
Screening, Monitoring, and Treatment of Stage 1 to 3 Chronic Kidney Disease: A Clinical Practice Guideline From the American College of Physicians