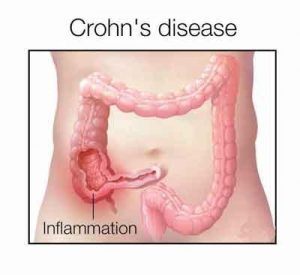 The American College of Gastroenterology (ACG) has published updated clinical practice recommendations for the management of Crohn's disease in adult patients. The guideline is published March 27, 2018, online in the American Journal of Gastroenterology.It includes 60 recommendations based on GRADE criteria and 53 summary statements in all. 

The final recommendations are based on the data available at the time of the production of the document and may be updated with pertinent scientific developments at a later time.   There has been changing in approach from the "step-up" approach to choosing an appropriate therapy based on a patient's prognosis. "In the past, we used to treat based on symptoms and we didn't really prognosticate, whereas now we can look at patients and determine whether they have a good or bad prognosis and use appropriately aggressive therapy at the outset if needed," according to guideline co-author.

Key recommendations:-
Patients with a low risk of progression may manage their disease with non-specific medications, diet, and careful observation.

Use of biomarkers such as fecal calprotectin in helping with the differential diagnosis in patients for whom it is unclear whether they have IBD or irritable bowel syndrome

Recommendation against the universal use of chromoendoscopy for IBD colorectal neoplasia surveillance

 Endoscopists to consider foregoing random surveillance biopsies if they are adequately trained and comfortable performing chromoendoscopy


 Oral mesalamine is not effective for induction of remission according to recent data

No anti-Crohn's directive medical therapy for those with low risk of progression but re-evaluation needs to be done

Recommendation against the use of azathioprine for short-term remission. Thiopurines are effective and may be considered 

Combine antimetabolites with biologics helps increase drug levels, mainly with infliximab with either methotrexate or with azathioprine or 6MP

Smoking cessation is very important, metronidazole and ornidazole help to prevent recurrence.

High-risk patients on anti-TNF therapy should be started within 4 weeks of surgery to prevent post-op Crohn's disease
Dr.Gary.R.Lichtenstein, who has been instrumental in developing the Guideline, concluded that the guideline does carry a substantial amount of change and noted this has been made possible by learning from clinical studies and clinical practice in other specialties.

For further reference log on to:  doi:10.1038/ajg.2018.27
................................ Advertisement ................................
Dr Kamal Kant Kohli-MBBS, DTCD- a chest specialist with more than 30 years of practice and a flair for writing clinical articles, Dr Kamal Kant Kohli joined Medical Dialogues as an Editor-in-Chief for the Speciality Medical Dialogues section. Besides writing articles, as an editor, he proofreads and verifies all the medical content published on Medical Dialogues including those coming from journals, studies,medical conferences,guidelines etc.
Before Joining Medical Dialogues, he has served at important positions in the medical industry in India including as the Hony. Secretary of the Delhi Medical Association as well as the chairman of Anti-Quackery Committee in Delhi and worked with other Medical Councils in India. Email: editorial@medicaldialogues.in. Contact no. 011-43720751
To know about our editorial team click here